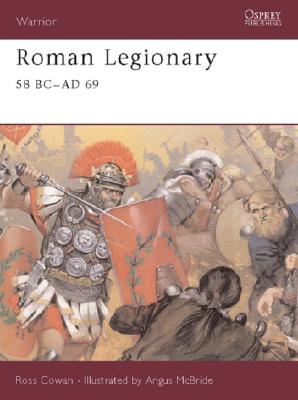 Roman Legionary 58 BC-Ad 69 (Paperback)
Osprey Publishing (UK), 9781841766003, 64pp.
Publication Date: June 20, 2003
Description
The period 31 BC-AD 43 saw the greatest expansion of the Roman Empire. In 31 BC Octavian defeated Antony at the battle of Actium and remodelled the semi-professional Roman army into a permanent force of 28 legions. Octavian became the first emperor (Augustus) and under his leadership the legions conquered northern Spain, all Europe south of the Danube line and Germany west of the Elbe. The legionaries exemplified the heroic culture of the Roman world and this title takes a behind-the-scenes look at their lives, training, weaponry and tactics, including the bloody massacre of the Teutoberg forest.
About the Author
Ross Cowan studied at the University of Glasgow where he was awarded a PhD for a thesis on the Roman army entitled 'Aspects of the Severan Field Army AD 193-238'. The major themes of the thesis are the organization of the Prateorian Guard and Legio II Parthica, their recruitment, numbers and equipment. Ross also completed his first degree at Glasgow. In 1999 he was elected a fellow of the Society of the Antiquaries of Scotland.
Advertisement