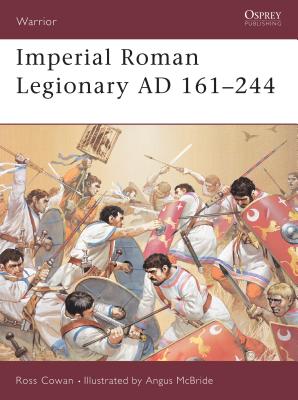 Imperial Roman Legionary Ad 161-284 (Paperback)
Osprey Publishing (UK), 9781841766010, 64pp.
Publication Date: December 31, 2003
* Individual store prices may vary.
or
Not Currently Available for Direct Purchase
Description
The years between AD 161 and 284 were a time of crisis for the Roman empire; it was threatened by barbarians to the north and west and by the Persians to the East in addition to a succession of crippling civil wars. This colour guide examines the role of the legionary, looking at how close they came to complete decimation, before showing how, by AD 284, the legionary emerged victorious and the empire as strong as ever. The introduction is supported throughout by photographs of artefacts and works of art in addition to fine colour illustrations that reconstruct the uniform, equipment, weaponry and fighting techniques of Rome's legions. Sections also examine the terms of the legionary's service, the organisation and hierarchy of the legion, the elite ranks and the virtue of legionaries in battle. Includes a glossary.
About the Author
Ross Cowan was formely a research student at the University of Glasgow where he was recently awarded a PhD for a thesis on the Roman army entitled 'Aspects of the Severan Field Army AD 193-238' in which he writes about the Praetorian Guard and Legio II Parthica.1999 he was elected a fellow of the Society of the Antiquaries of Scotland.
Advertisement