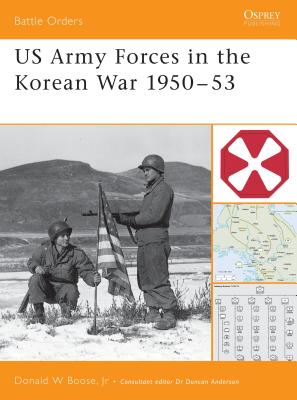 US Army Forces in the Korean War 1950 53 (Paperback)
Osprey Publishing (UK), 9781841766218, 96pp.
Publication Date: April 12, 2005
Description
When North Korea attacked the South on June 25, 1950, United States forces in East Asia were under the command of General Douglas MacArthur, whose largest ground force was Eighth US Army. This army fought a tenacious defense of South Korea, counterattacked north to the Yalu River with the separate X Corps, before falling back in the face of massive Chinese intervention, conducted a war of movement, and settled into a bloody two-year long period of static warfare. This title examines the combat mission, organization, and evolution of the Eighth US Army in Korea and its 300,000 US ground forces through highly detailed orders of battle, tables of organization and equipment, and examinations of crucial aspects such as doctrine, training, and tactics.
About the Author
Colonel (Retired) Donald W. Boose, Jr. holds an MA in Asian studies from the University of Hawaii. He completed his 30-year service in the US Army as an infantry officer and a Northeast Asia Foreign Area Officer, serving in Vietnam, Korea and Japan. He taught at the Command and General Staff College and the Army War College, where he was Director of Asian Studies prior to his retirement from active duty in 1992, and where he continues to teach.
Advertisement