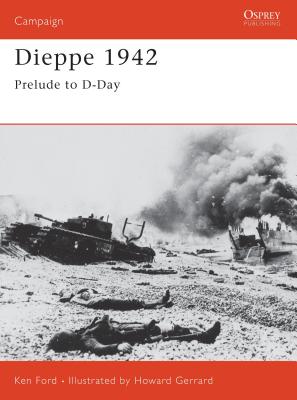 Dieppe 1942: Prelude to D-Day (Paperback)
Prelude to D-Day
Osprey Publishing (UK), 9781841766249, 96pp.
Publication Date: June 20, 2003
Description
Osprey's examination of the Dieppe raid of August 1942, which was one of the most controversial actions of World War II (1939-1945). Operation 'Jubilee' was a frontal assault on a fortified port landing the latest equipment and armour directly on to the beach. The main force would destroy the port facilities while other smaller landings dealt with anti-aircraft and coastal batteries. The raid itself turned into a fiasco. The assault force was pinned down on the beach and three quarters of the 5,000 troops landed were lost. This book analyses the disastrous raid and examines contrasting conclusions drawn by the Allies and the Germans.
About the Author
Ken Ford was born in Hampshire in 1943. He trained as an engineer and spent almost thirty years in the telecommunications industry. He now spends his time as an author and a bookseller specialising in books in military history. He has written a number of books on various Second World War subjects.
Praise For Dieppe 1942: Prelude to D-Day…
"This book is a must own for anyone interested in Canadian military history or in seaborne landings." -Paul Seabrook, Armorama (August 2004)
Advertisement