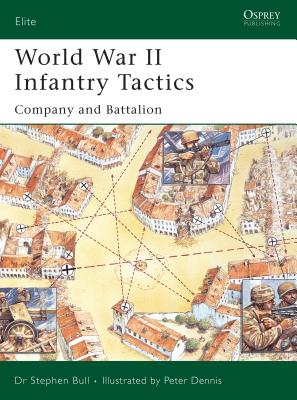 World War II Infantry Tactics: Company and Battalion (Paperback)
Company and Battalion
Osprey Publishing (UK), 9781841766638, 64pp.
Publication Date: February 5, 2005
Description
Osprey's study of German, British and American company and battalion tactics during World War II (1939-1945). The second World War is often seen as a confrontation of technology - tanks and aircraft, artillery and engineering. But at the heart of the battlefield was the struggle between infantrymen, and the technology was there to enable them to capture ground or hold it. This second of two books on the organization and tactics of the German, US and British infantry in Europe focuses on national differences in the development of company and battalion tactics - including those of motorized units - and the confrontation and co-operation between infantry and tanks. Contemporary photos and diagrams and vivid colour plates illustrate what tactical theories actually meant on the ground at human scale.
About the Author
Dr Stephen Bull is the Curator of the Museum of Lancashire in Preston, which incorporates the collections of several local regiments. Born in 1960, he graduated from the University of Wales with a BA (Hons) in history in 1981 and obtained his doctorate from University College, Swansea. For several years he worked at the National Army Museum. He has written numerous articles for specialist journals, including a number on the weapons and tactics of World War I.
Advertisement