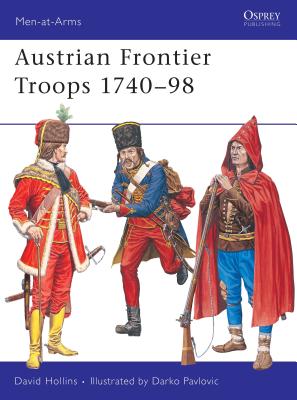 Austrian Grenzer Troops 1740-98 (Paperback)
Osprey Publishing (UK), 9781841767017, 48pp.
Publication Date: September 10, 2005
Description
Austria's Balkan frontier the disputed borderland between Europe and the Ottoman Turks was defended in the 18th century by a unique organization of hardy communities who were granted farmland in return for armed service. These Grenzers, masters of guerrilla warfare, were later incorporated into Austria's regular forces, and earned a wider reputation fighting against the army of Frederik the Great's Prussia. By the start of the wars against Revolutionary and Napoleonic France they provided a significant part of the Austrian Line. This book unravels their complex history, and illustrates the development of their colourful folk costumes into striking uniforms.
About the Author
After graduating from University College London, Dave Hollins trained as a maritime solicitor and began a career in commercial shipping. He is a frequent contributor to specialist Napoleonic magazines and has written a number of books related to the Imperial Army and Archduke Charles. His previous work for Osprey includes Warrior 24: 'Austrian Grenadiers and Infantry 1788-1816'. He lives in Linconshire, UK.
Advertisement