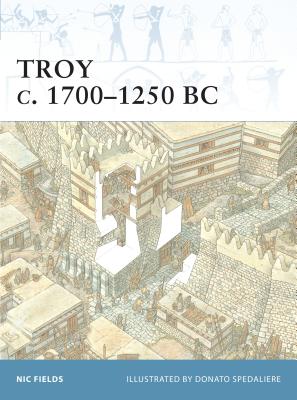 Troy C. 1700-1250 BC (Paperback)
Osprey Publishing (UK), 9781841767031, 64pp.
Publication Date: January 22, 2004
Description
Hisarlik is a small place, a sandy stone strewn hillock cut up into gullies and hummocks. Yet its historical significance is immense, for this is the site of Troy - the legendary city whose story sprawls across cultures, time and geography. The tale of the siege of Troy is the greatest secular story ever told, and has captured the imagination of the Western World for some 3,000 years. Although there are many difficulties in using Greek myths, oral traditions and the Homeric epics to reconstruct the Trojan War, this title uses the latest archaeological evidence to reconstruct in detail the fortifications of Troy as well as making more general observations about the possible historical events behind the epics of Homer.
About the Author
Dr Nic Fields started his career as a biochemist before joining the Royal Marines. Having left the Navy, he went back to University and completed a BA and PhD in Ancient History at the University of Newcastle. He was Assistant Director at the British School of Archaeology, Athens, and is now a lecturer in Ancient History and Archaeology at the University of Edinburgh.
Advertisement