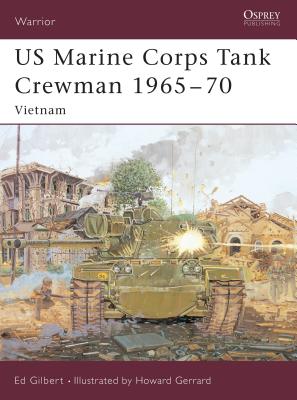 US Marine Corps Tank Crewman 1965-70: Vietnam (Paperback)
Vietnam
Osprey Publishing (UK), 9781841767185, 64pp.
Publication Date: October 22, 2004
* Individual store prices may vary.
or
Not Currently Available for Direct Purchase
Description
By 1960, following Korea, tanks and their crews had proved themselves to be a fundamental part of the Marine Corps' combined arms team. When the Marines were ordered to Vietnam in 1965, they took their tanks with them. This book explores this decision, which created a political storm. The presence of the tanks became a lightning rod for accusations of an 'escalation' of the war. Nevertheless, the tanks not only proved their value in the anti-guerrilla campaigns, but also amid the bitter conventional fighting and extraordinary casualties at Hue City. The ability to undertake such radical change and to prevail demonstrated the versatility, courage and tenacity that are the hallmarks of the 'ordinary' Marine.
About the Author
Ed Gilbert was a Marine artilleryman and a Battalion Training NCO in the Marine Corps Reserve. He holds a Ph.D. in geology, and is now a geologist and geophysicist involved in petroleum exploration in South Asia, the Middle East, Africa and South America. Ed has written for hobby, historical, and veteran's magazines, and is the author of oral and operational histories of the Marine Corps' armored units in World War II and the Korean War. He is currently at work on a history of the Marine Corps tank battalions in the Vietnam conflict.
Praise For US Marine Corps Tank Crewman 1965-70: Vietnam…
"This is a very interesting book, which provides a great starter for anyone studying Marine Corp tank operations during the 1960s. From a modeller's point of view, the detailed descriptions and excellent artwork will prove very useful and will, no doubt, be a source of inspiration for many Vietnam dioramas." -Rowan Baylis, Armorama (November 2004)
Advertisement