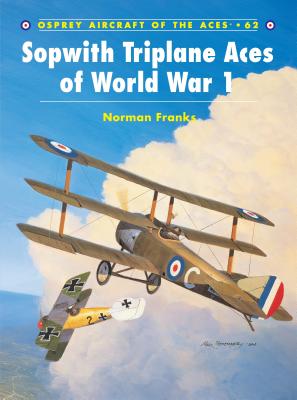 Sopwith Triplane Aces of World War 1 (Paperback)
Osprey Publishing (UK), 9781841767284, 96pp.
Publication Date: June 24, 2004
* Individual store prices may vary.
or
Not Currently Available for Direct Purchase
Description
The inspiration behind the iconic Fokker Dr I, Sopwith's Triplane was built as a replacement for the company's hugely successful, and much loved, Pup. Thanks to its massive wing area, the revolutionary Triplane boasted an unmatched rate of climb and greatly improved manoeuvrability. Indeed, when the type made its combat debut in late 1916, the Triplane could easily out-fight any other aircraft operated by either side. Used exclusively by the Royal Naval Air Service and the French Navy, theTriplane had a far greater impact on the aerial war over the Western Front than its meagre production numbers really deserved. Pilots such as Ray Collishaw, Bob Little and Roderic Dallas all enjoyed success in the bloody struggle for aerial supremacy over the Western Front in 1917. The first volume in print devoted exclusively to Triplane aces, this book includes numerous first-hand accounts, detailed appendices, more than 90 rare photographs and over 40 all-new colour profiles and planforms.
About the Author
Norman Franks is a full-time author and air historian, with more than 40 published book titles to his name. Norman is an active member of the Cross and Cockade World War 1 Aviation Historical Society, and he also belongs to the League of World War 1 Aviation Historians. Sopwith Triplane Aces of World War 1 is his eighth book for Osprey Aviation.
Praise For Sopwith Triplane Aces of World War 1…
With Fokker D VII Aces of World War I (Part 2): "This is the first time I have read examples of these books... If these books are representative, it must be a truly formidable series... Although both books complement each other, they both can stand alone as useful works describing this outstanding aircraft of World War I." -Mike Wollan, Aerodrome

With Fokker D VII Aces of World War I (Part 2): "I'll just start right off and say that both of these books should be on your World War I reading list... [Both] of these books have extensive color plates and descriptions of each of the markings. Also, there are many photos of the pilots and their airplanes, including some interesting cockpit shots of the crude instruments they used." -Rob Auer, Aerodrome

"...contains an extraordinary amount of first-person material including logbook entries for three aces... Additionally, Franks includes pilot reports by WWI and latter-day pilots, including Cecil Lewis' lively discussion of flying the Tripe... Four stars." -Barrett Tillman, Aerodrome
Advertisement