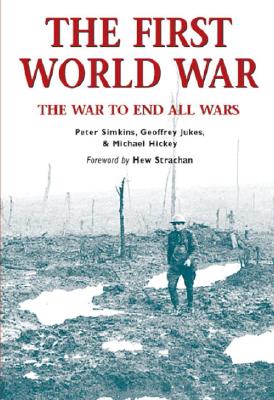 The First World War: The War To End All Wars (Paperback)
The War To End All Wars
Osprey Publishing, 9781841767383, 352pp.
Publication Date: September 25, 2003
* Individual store prices may vary.
or
Not Currently Available for Direct Purchase
Description
Raging for over four years across the tortured landscapes of Europe, Africa and the Middle East, the First World War changed the face of warfare forever. Characterized by slow, costly advances and fierce attrition, the great battles of the Somme, Verdun and Ypres incurred human loss on a scale never previously imagined. This book, with a foreword by Professor Hew Strachan, covers the fighting on all fronts, from Flanders to Tannenberg and from Italy to Palestine. A series of moving extracts from personal letters, diaries and journals bring to life the experiences of soldiers and civilians caught up in the war.
About the Author
After leaving Oxford, Geoffrey Jukes spent 14 years in the UK Ministry of Defence, and Foreign and Colonial Office. He has also worked on the staff of the Australian National University. Peter Simkins was Senior Historian at the Imperial War Museum until his retirement in 1999, when he was awarded the MBE for his services to the Museum. He is Honorary Professor in Modern History at the University of Birmingham, a Vice-President of the Western Front Association and a Fellow of the Royal Historical Society. Michael Hickey retired from his position as Colonel GS Ministry of Defence in 1981, after serving in Korea, East Africa, Suez and Aden. In 2000 he was awarded the Westminster medal for Military Literature.
Advertisement