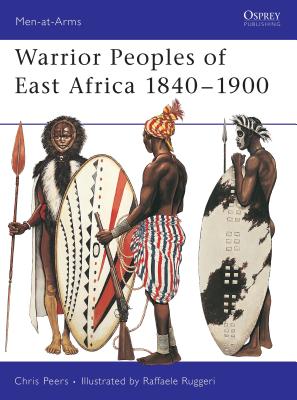 Warrior Peoples of East Africa 1840-1900 (Paperback)
Osprey Publishing (UK), 9781841767789, 48pp.
Publication Date: June 12, 2005
* Individual store prices may vary.
or
Not Currently Available for Direct Purchase
Description
Less well known than the Zulu of South Africa, the warriors of East Africa had just as fearsome a reputation. This fascinating study, illustrated with rare early drawings and meticulous colour plates, covers six of most prominent tribes. The prowess of the lion-hunting Masai deterred all foreign penetration for most of the 19th century; the Ngoni, driven north by the Zulu, revolutionized warfare in the region; the HeHe put up fierce resistance to German colonisers; the Ruga-Ruga produced two formidable warlords and adorned themselves with bloody trophies; the Nandi showed reckless bravery even against machine guns; and the Turkana dominated one of the most pitiless wildernesses in all of Africa.
About the Author
Chris Peers was born in 1956. He studied History at Cambridge University, and since then has pursued a lifelong interest in military history and African explorationn. He is married with one daughter, and lives and works in Birmingham.
Advertisement