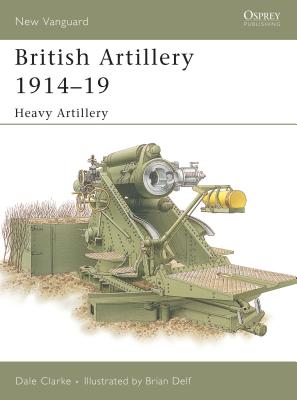 British Artillery 1914 19: Heavy Artillery (Paperback)
Heavy Artillery
Osprey Publishing (UK), 9781841767888, 48pp.
Publication Date: August 10, 2005
Description
World War I is often deemed to have been 'a war of artillery', and British heavy artillery played a vital part in destroying the German trenches and providing invaluable cover for advancing troops on the Western Front. This book details the huge guns of the Royal Garrison Artillery, including the 6-in. siege gun and howitzer, the 8-in. howitzer, the 12-in. railway and siege howitzer and the infamous 9.2-in breech-loading siege howitzer. Camouflage and enemy battery locations and transport are covered, as well as tactics used and how the guns were developed and manned.
About the Author
Dale Clarke has just completed a War in History MA at the Institute for the Study of War and Society at De Montfort University and is about to start a PhD on Early Modern English fortifications. He also works as a TA staff officer on attachment to the Directorate of Corporate Communications (Army) at the MOD. Previously he has worked as an armourer and technical advisor for film and television with credits including 'Captain Corelli's Mandolin'. He lives in Kent, UK.
Advertisement