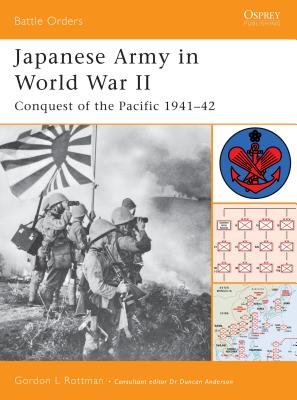 Japanese Army in World War II: Conquest of the Pacific 1941-42 (Paperback)
Conquest of the Pacific 1941-42
Osprey Publishing, 9781841767895, 96pp.
Publication Date: January 1, 2005
* Individual store prices may vary.
or
Not Currently Available for Direct Purchase
Description
The Japanese conquest of the Pacific comprised of a complex series of widely scattered operations; their intent was to neutralize American, Commonwealth, and Dutch forces, seize regions rich in economic resources, and secure an outer defense line for their empire. Although their conquest was successful, the forces deployed from Japan and China were not always ideally trained, equipped and armed. The South Seas and tropics proved challenging to these soldiers who were used to milder climates, and they were a less lethal enemy on the Chinese mainland. This book examines the overall structure of the Imperial Japanese Army (IJA), the forces in existence at the beginning of World War II and the organization of the forces committed to the conquest of the Pacific.
About the Author
Gordon L Rottman entered the US Army in 1967, volunteered for Special Forces and completed training as a weapons specialist. He served in the 5th Special Forces Group in Vietnam in 1969-70 and subsequently in airborne infantry, long-range patrol and intelligence assignments until retiring after 26 years. He was a special operations forces scenario writer at the Joint Readiness Training Centre for 12 years and is now a freelance writer.
Advertisement