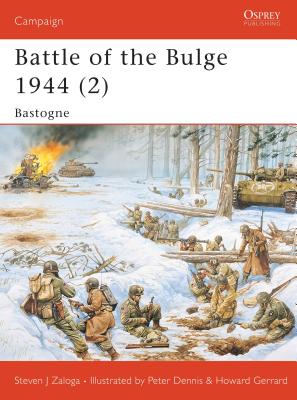 Battle of the Bulge 1944 (2): Bastogne (Paperback)
Bastogne
Osprey Publishing (UK), 9781841768106, 96pp.
Publication Date: November 11, 2004
Description
Osprey's second title examining the Battle of the Bulge, which was the largest and most costly battle fought by the US Army in World War II (1939-1945). When the attack in the north by 6th Panzer Army failed, Hitler switched the focus of the offensive to General Manteuffel's 5th Panzer Army farther south. Overwhelming the green US 106th Division, German Panzers flooded towards the River Meuse. Barring their way was the crossroads town of Bastogne, reinforced at the last minute by the paratroopers of the 101st Airborne, the 'Screaming Eagles . The stage was set for one of the epic struggles of the war the battle for Bastogne.
About the Author
Steven J Zaloga has his BA in history from Union College and his MA from Columbia University. He is currently a senior analyst for the aerospace research firm, Teal Group Corp. and an adjunct staff member with the Strategy, Forces, and Resources division of the Institute for Defense Analyses, a federal think-tank in Washington, DC. He has written over 50 books on military history and technology, as well as many television documentaries.
Advertisement