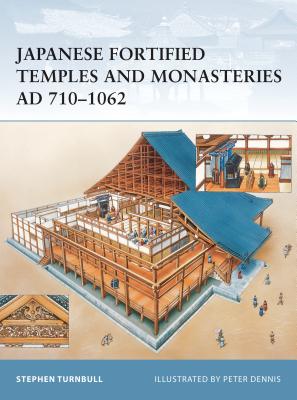 Japanese Fortified Temples and Monasteries AD 710-1062 (Paperback)
Osprey Publishing (UK), 9781841768267, 64pp.
Publication Date: August 10, 2005
Description
From the 10th century onwards the great Japanese monastic foundations of Nara and Mount Hiei maintained large armies of warlike monks. The tempestuous political rivalries that developed between the different orders of monks and religiously inspired laymen ensured that their temples and monasteries had to be securely sited and robustly defended. This books recreates these enormous fortified monasteries and temples, tracing their development from the 10th century through to the Sengoku Jidai period and the rise of the power of the shogunate under Tokugawa Ieyasu.
About the Author
Stephen Turnbull is the world's leading English-language authority on medieval Japan and the samurai. He has travelled extensively in the Far East, particularly in Japan and Korea and is the author of almost 50 books including The Samurai - The World of the Warrior and Men-at-Arms 86: Samurai Armies 1550-1615, Campaign 69: Nagashino 1575 and Warrior 64: Ninja AD 1460-1650. He is currently lecturer in Japanese Religion at the University of Leeds.
Advertisement