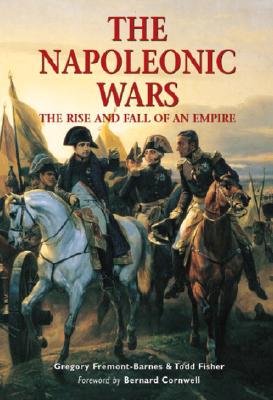 The Napoleonic Wars (Paperback)
The Rise and Fall of an Empire
Osprey Publishing (UK), 9781841768311, 352pp.
Publication Date: April 27, 2004
Other Editions of This Title:
Paperback (1/19/2001)
Hardcover (2/1/2002)
* Individual store prices may vary.
Description
The Napoleonic Wars saw fighting on an unprecedented scale in Europe and the Americas. It took the wealth of the British Empire, combined with the might of the continental armies, almost two decades to bring down one of the world's greatest military leaders and the empire that he had created. Napoleon's ultimate defeat was to determine the history of Europe for almost 100 years. From the frozen wastelands of Russia, through the brutal fighting in the Peninsula to the blood-soaked battlefield of Waterloo, this book tells the story of the dramatic rise and fall of the Napoleonic Empire. This book contains material previously published as Essential Histories volumes 3, 9, 17 and 39.
About the Author
Foreword by Bernard Cornwell, author of the bestselling 'Sharpe' novels. Authors Todd Fisher and Dr Gregory Fremont-Barnes are amongst the world's leading Napoleonic scholars. Todd Fisher is the Executive Director of the Napoleonic Alliance, a founding member of the International Napoleonic Society, and Chief Executive Officer of Emperor's Press and Napoleon Journal.Gregory Fremont-Barnes holds degrees in history from the University of California, Berkeley; the University of Chicago, and the University of Oxford. He is the author of 'The French Revolutionary Wars ' (2001), and is currently co-editing the four-volume 'Encyclopedia of the American Revolutionary War'.
or
Not Currently Available for Direct Purchase