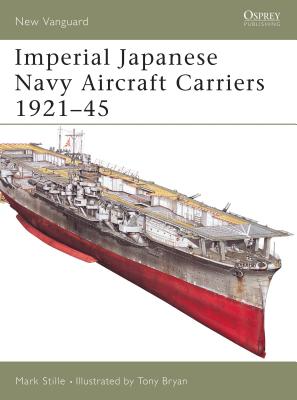 Imperial Japanese Navy Aircraft Carriers 1921-45 (Paperback)
Osprey Publishing (UK), 9781841768533, 48pp.
Publication Date: May 8, 2005
Description
The Imperial Japanese Navy was a pioneer in naval aviation, having commissioned the world's first built-from-the-keel-up carrier, the Hosho. Throughout the 1920s and 1930s, it experimented with its carriers, perfecting their design and construction. As a result, by the time Japan entered World War II and attacked the United States at Pearl Harbor in 1941, it possessed a fantastically effective naval aviation force. This book covers the design, development and operation of IJN aircraft carriers built prior to and during World War II. Pearl Harbor, Midway and the first carrier vs carrier battle, the battle of the Coral Sea, are all discussed.
About the Author
Mark Stille is a retired commander in the US Navy, currently working in Naval Intelligence. He has had numerous war games published in the past, including some concerning Japanese Aircraft Carriers. Interested in the navy, in particular the Imperial Japanese Navy, for most of his life, he devotes much of his time to researching the IJN and the vessels they used.
Praise For Imperial Japanese Navy Aircraft Carriers 1921-45…
"Though it only has 48 pages, the book works well with what is has as it provides some impressive information about all of the carriers (some of it, which may impress those that have researched about the subject matter for a long time). This book is mainly for historians (mainly as a starting point for those wanting to learn more about the subject matter), collectors and modelers." -Andrew Nguyen, www.combinedfleet.com (July 2009)
Advertisement