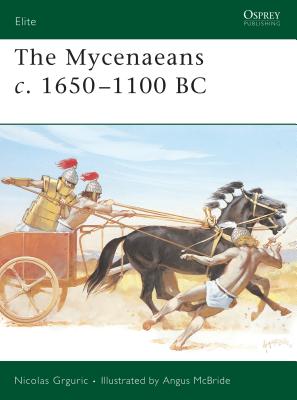 The Mycenaeans c. 1650-1100 BC (Paperback)
Osprey Books (NY), 9781841768977, 64pp.
Publication Date: September 10, 2005
* Individual store prices may vary.
or
Not Currently Available for Direct Purchase
Description
Osprey's study of Mycenaean warriors, from 1650 to 1100 BC. The timeless appeal of Homer's epic poem of the ancient Trojan War, The Iliad, has meant an eduring interest in the Mycenaean age. Modern scholarship and new archaeological evidence now allows us to recontruct with reasonable confidence the appearance of this great warrior civilization, which dominated much of the eastern Mediterranean between the 16th and 12th centuries BC. We can also make deductions, from the few surviving pictorial sources, about the tactics of these armies. This absorbing text is illustrated with examples of the archaeological and pictorial evidence, and with striking colour reconstructions of light and heavy infantry and chariot warriors of the Mycenaean age.
About the Author
Nicolas Grguric is an Australian graduate archaeologist who wrote his Honours thesis on the Mycenaean army. At the time of writing he is writing a Doctorate thesis on civilian use of defensive architecture in frontier Australia. His other interests include wargaming, living history and collecting black powder firearms. He lives in South Australia.
Advertisement