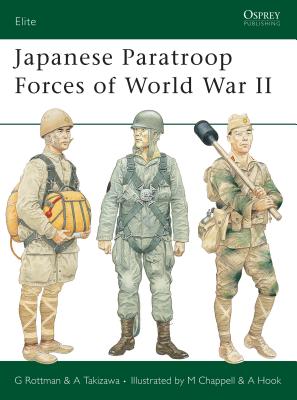 Japanese Paratroop Forces of World War II (Paperback)
Osprey Publishing (UK), 9781841769035, 64pp.
Publication Date: September 10, 2005
* Individual store prices may vary.
or
Not Currently Available for Direct Purchase
Description
Osprey's examination of Japan's parachute units of World War II (1939-1945). For the first time in English, this book offers a concise but fact-packed account of the organization, equipment, and all operations of Japan's small but elite wartime parachute forces. Correcting and amplifying previous accounts based on wartime intelligence, it traces the Imperial Army's Raiding Regiments and the Imperial Navy's parachute-trained Yokosuka 1st & 3rd Special Naval Landing Forces from the first trials units, through their successful assaults in early 1942, to the last desperate battles and raids of 1944-45. The text is illustrated with rare photographs, and meticulously reconstructed color artwork of the men and their gear.
About the Author
Gordon L Rottman entered the US Army in 1967, volunteered for Special Forces and completed training as a weapons specialist. He served in the 5th Special Forces Group in Vietnam in 1969-70 and subsequently in airborne infantry, long-range patrol and intelligence assignments, retiring after 26 years. He was a special operations forces scenario writer at the Joint Readiness Training Centre and is now a freelance writer. He lives in Cypress, Texas. Akira Takizawa was born in Japan in 1954 and studied history at the Tokyo University. He worked as a computer programmer developing PC wargames. Now, devoted to the study on the Imperaial Japanese Army he maintains the IJA website (http: //www3.plala.or.jp/takihome/). A member of Japanese Tank Research Group, "j-tank." He lives in Tokyo with his wife.
Praise For Japanese Paratroop Forces of World War II…
"The book concisely encompasses the paratroops' organization, equipment and operations ... The history includes the parachute-trained units' first tirals, their first successful assaults in early 1942, and raids and battles of 1944-45. Color illustrations of the Japanese troops and their equipment are accompanied by rare photographs." -Tony Little, Toy Soldier & Model Figure (April 2008)
Advertisement