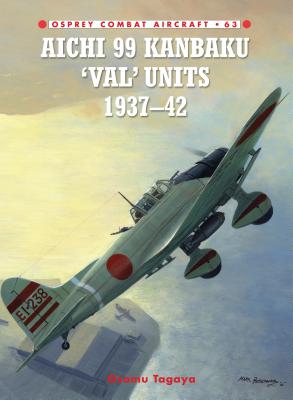 Aichi 99 Kanbaku 'Val' Units: 1937-42 (Paperback)
1937-42
Osprey Publishing (UK), 9781841769127, 96pp.
Publication Date: December 20, 2011
* Individual store prices may vary.
or
Not Currently Available for Direct Purchase
Description
The Aichi Type 99 Carrier Bomber (D3A) - code named 'Val' by Allied intelligence - was the mainstay of the Imperial Japanese Navy's carrier dive-bomber force from 1941 to 1943. It sank more Allied warship tonnage than any other Axis aircraft during World War II (1939-1945). While the Val's participation in the major carrier battles has been widely covered in other English language sources, details of its operations have received scant attention in English. This book explores the Val's combat operations. Colour illustrations and photographs complement the development of dive-bombing methods in the IJN.
About the Author
The son of a former officer in the Japanese Naval Air Technical Arsenal, Osamu Tagaya has written a number of books on Japanese aircraft, principally for the Smithsonian Institute. Born in Japan and educated in the US, Osamu has also lived in the UK and brings unique bilingual and broad cultural perspectives to his lifelong aviation research. This is his third book for Osprey. He lives in California, USA.
Praise For Aichi 99 Kanbaku 'Val' Units: 1937-42…
"This long-awaited title is #63 in the Osprey Combat Aircraft series and is certainly one to add to your collection... I highly recommend this book to anyone interested in Japanese Aviation, WWII, or aircraft in general. It is well done, and you can't beat it for the price." - Tim Hortman, IPMS

"There are a plethora of period photos of men and machines, many of which are new to this reviewer. This also includes several pages of full color profiles, but it is the combat operations that are by far the most interesting part of the book. It makes for a book about an aircraft that many in the West have heard of, but few knew anything about. It is most highly recommended." - Scott Van Aken, Modelling Madness
Advertisement