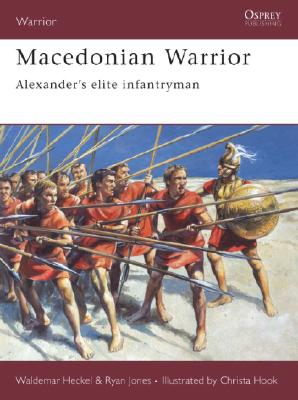 Macedonian Warrior: Alexander's Elite Infantryman (Paperback)
Alexander's Elite Infantryman
Osprey Publishing, 9781841769509, 64pp.
Publication Date: April 25, 2006
* Individual store prices may vary.
or
Not Currently Available for Direct Purchase
Description
During the reigns of Philip II and Alexander the Great, the Macedonian Army (the phalangites) were reformed and drilled into an invincible fighting force with unique tactics and weaponry. The Macedonian warrior during his service would march over 20,000 miles in the most diverse climates and terrains, fighting in four of the epoch battles of the time. This book examines their initial training, rise to an elite unit under Alexander the Great, and eventual defeat at the battle of Pydna, 168 BC. The daily life, weaponry, experience, and motivations of these men are detailed, using primary sources and anecdotal material.
About the Author
Waldemar Heckel is Professor of Ancient History at the University of Calgary, Canada. His publications include numerous articles on the history of Alexander the Great. Together with John Yardley he has produced the Penguin edition of 'Quintus Curtius Rufus: The History of Alexander' (1984) and most recently, 'Livy: The Dawn of the Roman Empire' for Oxford World's Classics (2000).
Advertisement