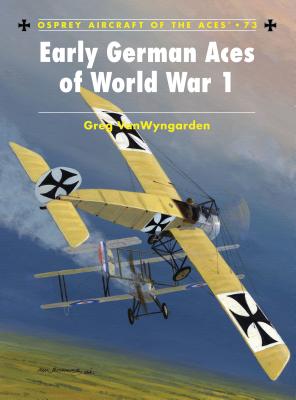 Early German Aces of World War I (Paperback)
Osprey Publishing (UK), 9781841769974, 96pp.
Publication Date: October 31, 2006
* Individual store prices may vary.
or
Not Currently Available for Direct Purchase
Description
One of the "top picks for specialized military holdings" - California Bookwatch
The Fokker Eindecker (monoplane) can truly be said to have begun the age of fighter aviation. With the development of its revolutionary synchronised system that enabled the machine gun to fire through the propellor, Fokker E I pilots caused consternation in the Allied air services as they began to reap a harvest of victims in the summer of 1915. While the first victory with a Fokker E-type is now believed to have been earned by Kurt Wintgens on 1 July 1915, it was the exploits of Max Immelmann and Oswald Boelcke that made the machine legendary. These men, along with others such as Parschau and Hohndorf, received the adulation of the German public along with such honors as the first awards of the coveted Blue Max. They created the tactics and principles of German fighter aviation as they did so, developing doctrine that is still relevant to today's fighter pilots.
However, by the end of 1916, the glory days of the lone hunter and his Fokker Eindecker were over. They were replaced by a succeeding generation of biplane fighters which would be flown in new formations - the Jagdstaffeln or 'hunting groups'. The story of these first Fokker and Halberstadt biplane fighters and their pilots concludes this volume.
RELATED TITLES
German Air Force 1914-1918 (Elite)
Fokker Dr 1 Aces of World War I (Aicraft of the Aces)
American Aces of World War I (Aircraft of the Aces)
About the Author
Greg VanWyngarden had had a lifelong interest in World War 1 aviation, and has been particularly active in deciphering the colours and markings that decorated the various German fighters flown by the leading aces. This is his third book for Osprey. The author lives in St Charles, Iowa.
Praise For Early German Aces of World War I…
"Color profiles and planform drawings will help immesnly with several new kits of the fascinating, pioneering Fokker Eindekers. Early Fokker and Halberstadt biplanes and captured Nieuports are also covered." -Aerospace Modeler (January 2009)

"This was a kick ass book." -Alex Ness, popthought.com

One of the "top picks for specialized military holdings." -California Bookwatch

"Fans of World War I German aces will be pleased with this history." -Fred Rick Boucher, AeroScale (October 2006)

"Early German Aces of World War I chronicles the life and times of men and machines who were responsible for the supremacy which marked German aerial combat history in 1915-16...with characteristic thoroughness, as Osprey books provide... It is definitely a work that belongs in your World War I aviation library." -Jim McCloskey, Aerodrome

"It is a superb look at the early years and development of fighter aircraft, ever-changing tactics and the men who flew them. A book that you'll find as thoroughly intriguing as did I and one I can recommend without reservation." -Scott Van Aken, modelingmadness.com
Advertisement