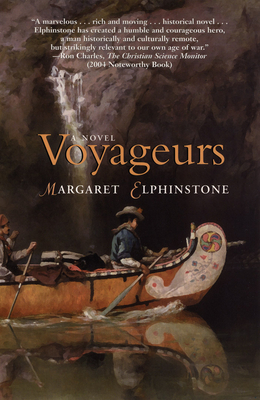 Voyageurs (Paperback)
Canongate Us, 9781841956435, 466pp.
Publication Date: March 4, 2005
* Individual store prices may vary.
Description
Voyageurs has garnered praise for its historical versimilitude and its exacting character portraits, as well as the story's contemporary relevance. Margaret Elphinstone's magnificent sixth novel gives us Mark Greenhow, a naive and peaceful Quaker who lands on the shores of North America on the eve of the War of 1812, thinking only of finding the missing sister he has always admired for her adventurous spirit.
Mark hitches a ride with the voyageurs who have canoed the rivers, transporting the tons of furs that feed the trade that has made the region a battleground of the French and British empires. Though Mark enters this brave new world with his conscience clean and his convictions sound, his encounters test his rigid upbringing. The backwoods of Canada have certainly led his sister astray; she has been excommunicated from the Society of Friends for running off with a non-Quaker. After her child is stillborn she runs again, deep into Indian country.
Elphinstone's crisp and effortless prose, coupled with her riveting, organic descriptions, her fully drawn characters, and the history of the region, make this novel an astonishingly authentic and profoundly satisfying work of historical fiction.