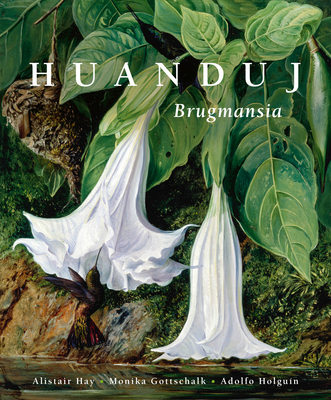 Huanduj (Hardcover)
Brugmansia
Royal Botanic Gardens, Kew, 9781842464779, 424pp.
Publication Date: July 15, 2012
* Individual store prices may vary.
Description
This ethno-botanical and horticultural monograph is the first full taxonomic revision of Brugmansia, a genus in the Solanaceae family and the most potent and culturally important of South American psychoactive enthogenic plants. It is used extensively in religious and spiritual ceremonies in shamanic cultures, and it is also a spectacularly beautiful garden plant.
Huanduj: Brugmansia combines original field and botanical research with horticultural expertise and the review of more than six hundred bibliographic references spanning the sixteenth century to the present day. It covers every aspect of the plant from its history, anthropology, and ethno-botany, to its taxonomy, biology, pathology, biotechnology, and its cultivation both as a garden plant and for its psychoactive derivatives. Beautifully designed and extensively illustrated with examples of species and cultivars, this comprehensive volume is an excellent resource for anthropologists, botanists, biologists, horticulturalists, and anyone with an interest in this fascinating genus.
About the Author
Alistair Hay is a retired senior research scientist and director at the Royal Botanic Gardens Sydney. He has been cultivating Brugmansia in warm temperate Australia for twenty-five years.
Monika Gottschalk has more than thirty years experience in the cultivation of Brugmansia in cold winter climates and is a preeminent hybridizer of superior garden cultivars.
Adolfo Holguín is the South American expert on the genus, with about forty years experience in the field.
Praise For Huanduj: Brugmansia…
"I searched for ages for the single right adjective to describe this book—an almost impossible task, it is so lovely. Sumptuous about does it . . . this book is a tour de force—chock full of information, beautifully illustrated, meticulously referenced."
— Botanical Journal of the Linnean Society
"With elegant prose, building on detailed research in the literature and in the field, this beautiful book engagingly dispels the confusion surrounding the taxonomy of this remarkable group of plants. It not only brings current knowledge together in a refreshingly original way but also—just as importantly—points up what we still do not understand about the biology of these enigmatic plants."
— David Mabberley, Royal Botanic Gardens & Domain Trust, Sydney
or
Not Currently Available for Direct Purchase