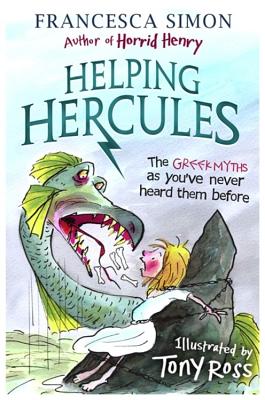 Helping Hercules (Paperback)
Orion Children's, 9781842551530, 128pp.
Publication Date: June 4, 2013
* Individual store prices may vary.
Description
Here are the Greek myths as you've never heard them before.
Susan is whisked back through time to Ancient Greece, and finds that helping Hercules clean the Augean stables is much, much worse than tidying her room. One hair-raising experience follows another as she goes down into the Underworld with Orpheus, just misses being turned to stone by Medusa, and rides on the winged horse Pegasus.
This is both a fabulously funny story and a brilliant way to introduce children to eight of the best-known Greek myths. Susan meddles in each of the myths - taking a dim view of the gods and goddesses and heroes she encounters - but gets out in the nick of time, so the myths themselves remain unchanged and will be remembered vividly by their readers. To make it easy, there is even a guide to pronouncing Greek names.
About the Author
Francesca Simon (Author)
Francesca Simon spent her childhood on the beach in California, and then went to Yale and Oxford Universities to study medieval history and literature. She now lives in London with her family. She has written over 50 books and won THE CHILDREN'S BOOK OF THE YEAR at the Galaxy British Book Awards for HORRID HENRY AND THE ABOMINABLE SNOWMAN.

Visit Francesca's website at www.francescasimon.com and keep up-to-date with Horrid Henry at www.horridhenry.co.uk. You can also follow her on Twitter @simon_francesca

Tony Ross (Illustrator)
Tony Ross is one of the most popular and successful of all children's illustrators, with many picture books to his name. He has also produced line drawings for many fiction titles.


Praise For Helping Hercules…
"I have never known much about the Greeks, or their Gods, but this book has enlightened me. The illustrations by Tony Ross bring the text to life as well as Francesca Simon's excellent choice of words¿A wonderful book."—Evening Press (York), 16 July 2003

"¿an exciting way into the Greek myths¿Simon has a talent for writing stories with real child appeal."—Financial Times, 28 June 2003

"Tony Ross's illustrations are brilliant as ever, and the overall sense of fun may be the catalyst needed to draw children into the glory that was mythical Greece."—School Librarian, Autumn 2003

"This is told with flamboyant characterisation and the hair-raising tales offer an exciting introduction to the world of Greek mythology."—Junior Magazine, 1 December 2003

"If this version of the Greek myths doesn't win over your child, nothing ever will."—Telegraph, 2 August 2003
or
Not Currently Available for Direct Purchase