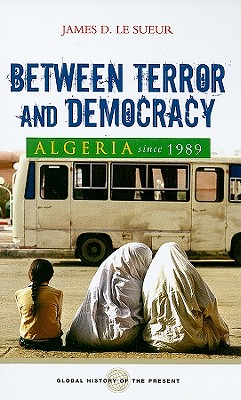 Algeria Since 1989
Between Terror and Democracy
Hardcover

* Individual store prices may vary.
Other Editions of This Title:
Paperback (1/1/2010)
Description
Algeria's democratic experiment is seminal in post-Cold War history. The first Muslim nation to attempt the transition from an authoritarian system to democratic pluralism, this North African country became a test case for reform in Africa, the Arab world and beyond. Yet when the country looked certain to become the world's first elected Islamic republic, there was a military coup and the democratic process was brought sharply to a halt. Islamists declared jihad on the state and hundreds of thousands of civilians were killed in the ensuing decade of state repression.

Le Sueur shows that Algeria is at the very heart of contemporary debates about Islam and secular democracy, arguing that the stability of Algeria is crucial for the security of the wider Middle East. Algeria Since 1989 is a lively and essential examination of how the fate of one country is entwined with much greater global issues.
Praise For Algeria Since 1989: Between Terror and Democracy…
"Modern Algerian history has long been filled with intense moments of suffering and tragedy alternating with great expectations for a progressive and prosperous future. Such was its trajectory in the late 1980s when the country was on the verge of transitioning from authoritarianism to democracy only to be short-circuited by a military coup that drove state and society into a bloody tailspin from which it has barely emerged. Le Sueur's study is the most historically comprehensive, analytically insightful, and intellectually honest account of Algeria's dramatic and tumultuous last two decades available in any language. That it is written in crisp and accessible prose makes it valuable to both specialists and general audiences alike. Based on many years of close study of the country, the author unveils the many contradictions, complexities, and conflicts that continue to plague North Africa's most important political actor whose fate has implications for the Mediterranean region and beyond." -- John P. Entelis, Fordham University
"James Le Sueur provides a striking portrait of Algeria in the 1990s that is truly remarkable for presenting a fair and balanced analysis of an extremely controversial history. While Le Sueur's account provides a full account of Algerian developments, it places these experiences within broader global contexts, making this book distinctively valuable for policy makers as well as the broader public." -- John Voll, Georgetown University
"Le Sueur makes an extremely valuable contribution to our understanding of contemporary Algerian history … placing this history into a broader geopolitical and sociological perspective, including the failure of democratic liberalism and the rise of political Islam and Islamic radicalism" -- John Ruedy, Georgetown University
Zed Books, 9781842777244, 224pp.
Publication Date: January 1, 2010
About the Author
James D. Le Sueur is Associate Professor of History at the University of Nebraska, Lincoln, and has been a Senior Associate Member of the Middle East Centre at St Antony's College, Oxford. He is an internationally recognized expert on Algeria and political Islam, French history and decolonization. He is currently producing a documentary film on the Algerian civil war. His books include "Uncivil War: Intellectuals and Identity Politics during the Decolonization of Algeria" (2005) and "The Decolonization Reader" (2003).
or
Not Currently Available for Direct Purchase