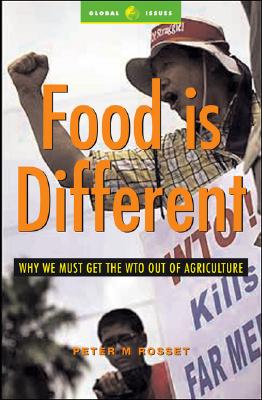 Food Is Different: Why We Must Get the WTO Out of Agriculture (Paperback)
Why We Must Get the WTO Out of Agriculture
Zed Books, 9781842777558, 163pp.
Publication Date: August 1, 2006
* Individual store prices may vary.
or
Not Currently Available for Direct Purchase
Description
Why does our global food system gives us expensive, unhealthy and bad-tasting food, where we pay more for packaging and long-distance shipping than we do for the food itself? Why do farmers and peasants from around the world lead massive protests each and every time the World Trade Organization meets?
Peter Rosset explains how the runaway free trade policies and neoliberal economics of the WTO, American government and European Union kill farmers, and give us a food system that nobody outside of a small corporate elite wants. This essential guide sets out an alternative vision for agricultural policy, taking it completely out of the WTO's ambit. Food is not just another commodity, to be bought and sold like a microchip, but something which goes to the heart of human livelihood, culture and society.
About the Author
Peter M. Rosset is based in Oaxaca, Mexico, where he is a researcher at the Centro de Estudios para el Cambio en el Campo Mexicano and co-coordinator of the Land Research Action Network, or LRAN.
Praise For Food Is Different: Why We Must Get the WTO Out of Agriculture…
"Rosset, a food rights activist and rural development specialist, has written a clear and extremely accessible account of the impact of trade liberalisation on farming and, more particularly, on small farmers throughout the world."-- Grain.org
Advertisement