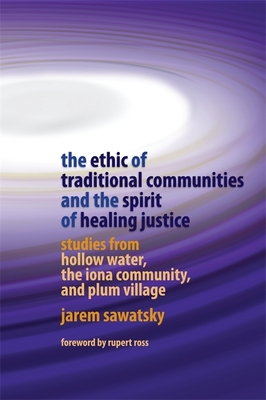 The Ethic of Traditional Communities and the Spirit of Healing Justice (Paperback)
Studies from Hollow Water, the Iona Community, and Plum Village
Jessica Kingsley Publishers, 9781843106876, 288pp.
Publication Date: March 1, 2009
* Individual store prices may vary.
Description
What is healing justice? Who practices it? What does it look like? In this groundbreaking international comparative study on healing justice, Jarem Sawatsky examines traditional communities including Hollow Water - an Aboriginal and M tis community in Canada renowned for their holistic healing work in the face of 80 per cent sexual abuse rates; the Iona Community - a dispersed Christian ecumenical community in Scotland known for their work towards peace, healing and social justice, rebuilding of community and the renewal of worship; and Plum Village - a Vietnamese initiated Buddhist community in southern France, and home to Nobel Peace Prize nominated author, Thich Nhat Hanh. These case studies record a search for the kind of social, structural, and spiritual relationships necessary to sustain a healing view of justice. Through comparing cases, Sawatsky identifies the common patterns, themes, and imagination which these communities share. These commonalities among those that practice healing justice are then examined for their implications for wider society, particularly for restorative justice and criminal justice. This innovative book is accessible to those new to the topic, while at the same time being beneficial to experienced researchers, and will appeal internationally to practitioners, students, and anyone interested in restorative justice, law, peace building, and religious studies.
About the Author
Jarem Sawatsky is Assistant Professor of Peace and Conflict Transformation Studies at Canadian Mennonite University in Winnipeg, Manitoba where he teaches and practices the art of peacebuilding. Jarem is a practitioner, a scholar, and activist of restorative and peaceful ways of engaging harms and cultivating healing justice. He has written numerous articles on peace, conflict, and restorative justice. Find out more at www.jaremsawatsky.com.