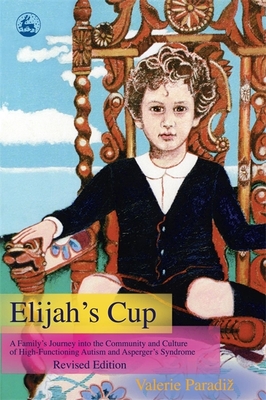 Elijah's Cup
A Family's Journey Into the Community and Culture of High-Functioning Autism and Asperger's Syndrome (Revised Edition)
Paperback

* Individual store prices may vary.
Other Editions of This Title:
Paperback (6/25/2007)
Description
This provocative and pioneering book is both a refreshing exploration of the history of autism spectrum disorders (ASDs) and a powerful story of the author's own struggle with her son Elijah's Asperger's Syndrome.
From her first inklings of Elijah's difference to her discovery of a whole spectrum of another way of life that includes everything from civil rights organizations for autistics to Asperger artists, Valerie Paradiz describes how she decided to cross what she calls 'cultural boundaries' to overcome her fears about her son's condition. Her inspiring narrative offers compelling insights into daily life with Elijah's Asperger's syndrome and her own 'shadow syndrome', which affects many family members of autistics. It is also a celebration of the idiosyncratic beauty of the Asperger mind and the sense of mutual support and self-respect in the ASD community. This revised edition includes a contribution from Elijah and a new chapter that brings the story up-to-date: the author successfully sets up a specialist educational unit for Asperger pupils, Elijah experiences his first two years of school, and the author's dawning recognition of her own Asperger's Syndrome leads to major life changes. Elijah's Cup offers moving and insightful observations as well as factual information for parents and anyone working with people with ASDs.
Jessica Kingsley Publishers, 9781843108023, 240pp.
Publication Date: March 15, 2005
About the Author
Valerie Paradiz holds a Ph.D. in German Literature from City University of New York and has taught German and writing at Bard College, Brooklyn College, and the State University of New York, New Paltz. She is the co-founder and director of ASPIE, the School for Autistic Strength, Purpose and Independence in Education and sits on the Board of Directors of GRASP, the Global Regional Asperger Syndrome Partnership.
or
Not Currently Available for Direct Purchase