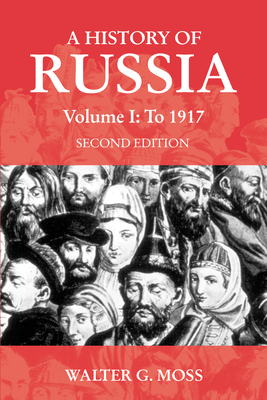 A History of Russia Volume 1 (Paperback)
To 1917 (Anthem Series on Russian)
Anthem Press, 9781843310235, 654pp.
Publication Date: September 5, 2000
* Individual store prices may vary.
Description
This new edition retains the features of the first edition that made it a popular choice in universities and colleges throughout the US, Canada and around the world. Moss's accessible history includes full treatment of everyday life, the role of women, rural life, law, religion, literature and art. In addition, it provides many other features that have proven successful with both professors and students, including: a well-organized and clearly written text, references to varying historical perspectives, numerous illustrations and maps that supplement and amplify the text, fully updated bibliographies accompanying each chapter as well as a general bibliography of more comprehensive works, a glossary, and chronological and genealogical lists. Moss's 'A History of Russia' will appeal to academics, students and general readers alike.
About the Author
Walter G. Moss is Professor of History in the Department of History and Philosophy at Eastern Michigan University.
Praise For A History of Russia Volume 1: To 1917 (Anthem Series on Russian)…
'Manages to embrace a wide range of topics while at the same time remaining accessible and interesting…balances humorous anecdotes with provocative concepts, and discusses historiography in a clearer and more contemporary fashion than that found in Riasanovsky's A History of Russia, now in its sixth edition and looking a bit musty by comparison...There is little to fault with this volume.'
Andrew Gentes, Lecturer in Russian and European History, University of Queensland in Australian Slavonic and East European Studies, Vol. 18 (2004)
'An expertly presented and thoroughly informative narration recommended for a scholar's Russian History reference shelf, as well as accessibly informative reading for the non-specialist general reader with an interest in the historical development of Russia.'
Midwest Book Review (Oregon, WI USA)