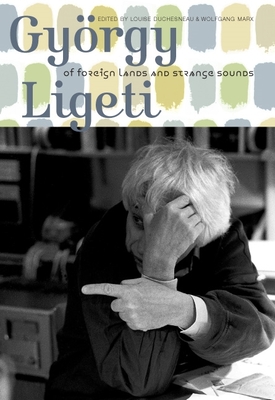 György Ligeti (Hardcover)
Of Foreign Lands and Strange Sounds
Boydell Press, 9781843835509, 298pp.
Publication Date: October 20, 2011
* Individual store prices may vary.
Description
Shortlisted for the RPS Music Award 2012 for Creative Communication. Gy rgy Ligeti: Of Foreign Lands and Strange Sounds offers a new assessment of a composer whose constant exploration of new sound worlds - based on the musics of different cultures and ages - contributed in crucial ways to making him one of the most important musical voices of the last 50 years. The book combines texts by former students, colleagues and friends, who reflect on different and so far unknown aspects of Ligeti's persona, with new musicological interpretations of his style and several of his main works. Among the contributors are some of the most eminent Ligeti scholars, including Richard Steinitz and Paul Griffiths. Louise Duchesneau, Ligeti's assistant of over 20 years, acts not only as contributor but also as co-editor of the volume. Many of the musicological chapters are based on studies of Ligeti's sketches, which are now housed by the Paul Sacher Foundation in Basle and were made available for research only recently. Two close collaborators representing disciplines which deeply interested Ligeti - Heinz-Otto Peitgen (a mathematician who introduced Ligeti to fractal geometry, which influenced many if his works since 1985) and Simha Arom (an ethnomusicologist who acquainted Ligeti with the complex rhythmic patters of the music of Sub-saharan Africa) - also reflect on the composer for the very first time in writing. The combination of new insights into Ligeti by people who knew him with new analytical approaches will make this a core publication not only for Ligeti scholars, but also for readers interested in music of the second half of the twentieth century and in Hungarian culture. WOLFGANG MARX is Lecturer in Music, University College Dublin. LOUISE DUCHESNEAU was Ligeti's assistant for 20 years Contributors: SIMHA AROM, JONATHAN W. BERNARD, CIAR N CRILLY, LOUISE DUCHESNEAU, BENJAMIN DWYER, TIBORC FAZEKAS, PAUL GRIFFITHS, ILDIK M NDI-FAZEKAS, WOLFGANG MARX, HEINZ-OTTO PEITGEN, FRIEDEMANN SALLIS, WOLFGANG-ANDREAS SCHULTZ, MANFRED STAHNKE, RICHARD STEINITZ.
or
Not Currently Available for Direct Purchase