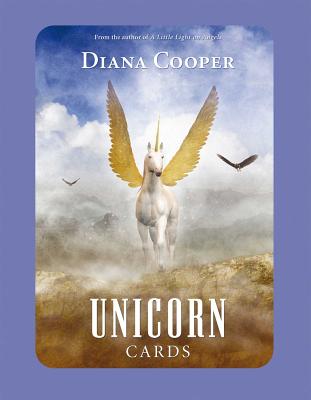 The Unicorn Cards (Cards)
Findhorn Press, 9781844091447, 28pp.
Publication Date: November 1, 2008
* Individual store prices may vary.
Description
The magical, mythical beings of pure energy known as unicorns stand ready to help and guide humanity in this beautiful deck of affirmations, which features a unique unicorn on every card. By attuning to the pack and drawing a card, users gain access to the wisdom of unicorns to help with meditation or daily navigation. The simple messages of guidance and inspiration will be welcome to both adults and children striving to connect with themselves and improve their inner lives.
About the Author
Diana Cooper is a therapist, healer, author of several books, and the founder of the Diana Cooper Foundation. Her journey started during a time of personal crisis when she received an angel visitation that changed her life. Since then the angels and her guides have taught her about the angelic realms, unicorns, fairies, Atlantis, and Orbs as well as many other spiritual subjects. Through her workshops and therapy practice she has helped countless people find their life mission, fulfill their potential, and empower their lives. Diana's aim and vision is to light the way to enable children, adults, and the planet to ascend graciously and happily.

Founding partner in Design Factory, Dublin from 1983 to 1990. Damian Keenan subsequently relocated to Germany and is currently based in Heidelberg. For the past 20 years he has worked as designer/illustrator for a range of national/international clients that include small-to-middle size companies, advertising agencies and publishers.