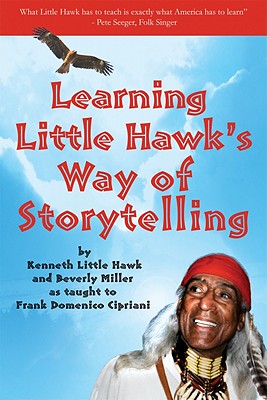 Learning Little Hawk's Way of Storytelling (Paperback)
Findhorn Press, 9781844095360, 192pp.
Publication Date: May 1, 2011
* Individual store prices may vary.
or
Not Currently Available for Direct Purchase
Description
Based on the teachings of Kenneth Little Hawk, the renowned Mi'Kmaw First Nation storyteller, this book uses stories to explain how to tell stories. Each of the practical skills needed for storytelling is clearly illustrated through relevant stories from native tribes--"What the Fire Taught Us" teaches special effects, "Our Many Children" shows voice modulation, and "Little Thunder's Wedding" offers techniques for formal stories. Business people looking to enhance their public speaking, librarians wanting to enliven children's programs, and teachers trying to instill a love of story in their students will find the entertaining and educative methods in this guide both inspiring and effective.
About the Author
Kenneth Little Hawk is a Native American storyteller, keynote speaker, recording artist, and actor. He has performed at the White House, the Lincoln Center, the Kennedy Center, and the Museum of Natural History and has been hired as a speaker by such corporations as PepsiCo, AT&T, Verizon, and Sony as well as by government agencies. He appeared in two award-winning Ken Burns documentaries and has won the storyteller of the year award from several organizations. Beverly Miller is the wife of Little Hawk and works as his assistant. They live in Whiting, New Jersey. Frank Domenico Cipriani is a naturalist and an author whose writing has been featured in a best of Argentine short-story collection and various newspapers and websites. He teaches creative writing and is the Spanish translator for Little Hawk's stories. He lives in South Tom's River, New Jersey.
Praise For Learning Little Hawk's Way of Storytelling…
"This unique 'how to' book teaches more than just the art of storytelling: it invites us to rediscover an older, and wiser, way of experiencing our humanity." —Nicholas Nicastro, author, Antigone's Wake
"This is a story that teaches how to tell a story---by example. . . . The spirit of this book can be summed up in two words: respect and creativity, increasingly scarce in today's world . . . of special interest to teachers, librarians, and therapists." —
New Age Retailer
(July 1, 2011)
"Captivating and entertaining with a warm, inviting tone. It reads like a fascinating collection of stories rather than a didactic 'how-to.'. . . [This] should be read by anyone who works with children, whether a parent, teacher, librarian, or children's program leader." —
ForeWord Reviews
(April 1, 2011)
"Telling a good story is more useful than one would think . . . [it] can get your message across in a way that plain speaking won't. . . . [This is] fascinating reading, a must for any who want to embrace the way of the story." —
Midwest Book Review
(July 1, 2011)
"A compelling read full of the wisdom and skills of storytelling . . . explores both inner (psychological and spiritual realm of what is communicated in the telling) and outer (technique and physical presentation) domains of storytelling; I very much enjoyed this book." —
Fact and Fiction
(July 2011)
Advertisement