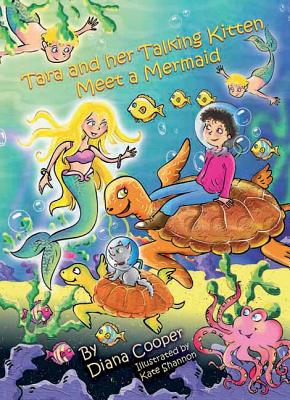 Tara and Her Talking Kitten Meet a Mermaid (Tara and Ash-Ting) (Hardcover)
Findhorn Press, 9781844095803, 80pp.
Publication Date: June 1, 2012
Other Editions of This Title:
Compact Disc (4/1/2012)
Compact Disc (4/1/2012)
* Individual store prices may vary.
Description
When a flood overwhelms her village, Tara enlists the help of her old friends the fairies and the Unicorn to help save a boy from drowning. Learning from this event, Tara undertakes a special mission to clean up the oceans. By organizing her school and with the help of politicians, Tara successfully builds a campaign to raise public awareness about environmental concerns. The fourth adventure in a magical series, this imaginative story creates clear discussion points allowing parents and teachers to talk to children about actions and consequences while offering ideas on ways to interact with and protect the earth.
About the Author
Diana Cooper is a lecturer, a therapist, a healer, and the principal of the Diana Cooper School. She is the bestselling author of many books, including 2012 and Beyond, A Little Light on the Spiritual Laws, and the Tara and Ash-ting series. Kate Shannon is the illustrator of several children's books, including Bad Boris; Freddie, Bill, and Irving; Grandpa Rides a Harley; and the Tara and Ash-ting series.
Praise For Tara and Her Talking Kitten Meet a Mermaid (Tara and Ash-Ting)…
"A great way for children and adults to listen to their inner voice and think about . . . the consequences of what we say and do."  —Juno magazine on the Tara and Ash-ting series


"[The Tara and Ash-ting series] encapsulates so many of the issues kids are dealing with these days: jealousy, anger, inequality . . . highly recommended for the preschool through elementary crowd."  —New Age Retailer


"Diana Cooper, who is most well known for her work with the angelic kingdom, has a spiritual message for children – you are not alone, no matter how bad things may seem, and you are dearly loved, even at your worst....One of the things I loved about this book is that after reading it, my daughter, who sometimes goes through the very things that Tara goes through, was open and receptive to the idea of a loving, supportive, tangible presence that encourages us and supports us just the way that Tara's magical kitten supported Tara."  —Deanna Joseph, review on BellaOnline
or
Not Currently Available for Direct Purchase