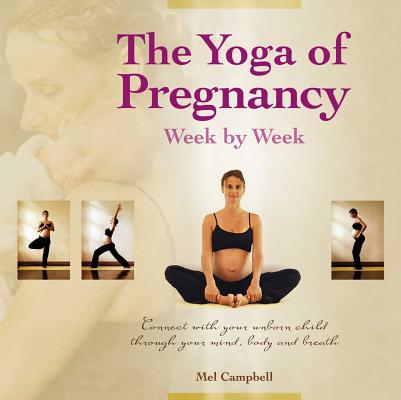 The Yoga of Pregnancy Week by Week (Paperback)
Connect with Your Unborn Child through the Mind, Body and Breath
Findhorn Press, 9781844095933, 160pp.
Publication Date: October 1, 2012
* Individual store prices may vary.
Description
Focusing on creating a conscious union with the growing baby in utero, this detailed guide introduces a practice of weekly meditations, yoga, and affirmations that reflect the developmental and physiological changes taking place both inside and outside the womb. The book enhances the experience of pregnancy and prepares mothers physically, emotionally, and spiritually for child birth and motherhood. Beginners to yoga as well as regular practitioners will learn unique approaches and proper techniques that initiate a healthful, purposeful connection with the mother's own body and with her unborn child.
About the Author
Mel Campbell is an internationally renowned yoga teacher who was instrumental in pioneering prenatal yoga to expectant mothers in Thailand during her residency there. She is accredited with Yoga Alliance and holds a National Diploma in occupational therapy.
Praise For The Yoga of Pregnancy Week by Week: Connect with Your Unborn Child through the Mind, Body and Breath…
"An excellent book packed full of weekly exercises that perfectly compliment each stage of the pregnancy and helps the mother to remain supple, relaxed and happy. The Yoga of Pregnancy also contains wonderful affirmations and intentions to create a strong, loving connection between mother and baby. Highly recommended."
— Martin Gill, Yoga Magazine

"This 40 week-by-week journey is a fantastic way to get to know your baby and stay in touch with the rapidly changing physiology of your own body. To stay healthy and aware during this miraculous process is surely an appropriate aim for every mother to be. To make this happen for you, the book's content and design is sensitively written and presented. It will be an inspiration to keep by you. Enjoy!"
— Bill Anderton, pilgrimsmindbodyspirit.co.uk

"This book provides a 40-week journey of narrative, intentions, meditations, affirmations and yoga to help a woman connect with her unborn baby. Mel Campbell is an experienced yoga teacher, a healer, and mother to three children, and all three experiences combine to create a reflective but practical guide to follow through pregnancy."
— Saffia Farr, Juno Magazine

"Internationally renowned yoga teacher Mel Campbell shares her yogic training, personal wisdom, and experience giving birth to three beautiful daughters in one gorgeous book. This stunning guide is designed to assist the prenatal yogini through her pregnancy with week-by-week chapters designed to integrate mother and baby-to-be on every level: physical, emotional, and spiritual."
— Alyson Gracie, Retailing Insight