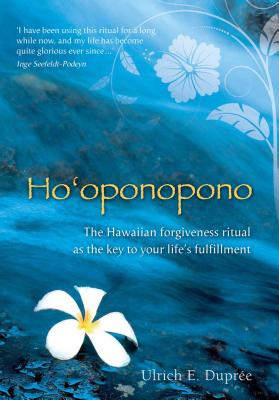 Ho'oponopono (Paperback)
The Hawaiian Forgiveness Ritual as the Key to Your Life's Fulfillment
Earthdancer Books, 9781844095971, 96pp.
Publication Date: September 1, 2012
* Individual store prices may vary.
Description
Powerful yet concise, this revolutionary guide summarizes the Hawaiian ritual of forgiveness and offers methods for immediately creating positive effects in everyday life. Exploring the concept that everyone is deeply connected--despite feelings of singularity and separation--four tenets are disclosed for creating peace with oneself and others: I am sorry, Please forgive me, I love you, and Thank you. Offering practical exercises, this simple four-step system encourages readers to focus on difficult conflicts within personal relationships and heal the past. By addressing these issues, owning one's feelings, and accepting unconditional love, unhealthy situations transform into favorable experiences. The final chapters delve into love, relationships, health, career and healing the planet.
About the Author
Ulrich Emil Duprée is a bestselling author, seminar leader and visionary. He has studied both Western and Eastern philosophy and lived in a Hindu monastery for four years. He has taught Ho'oponopono, the ritual of forgiveness, since his mystical initiation by a Hawaiian Kahuna priest in 2009.
Praise For Ho'oponopono: The Hawaiian Forgiveness Ritual as the Key to Your Life's Fulfillment…
"This powerful little gem, contains the Hawaiian Huna ritual of forgiveness. Deceptively simple on the surface, this ritual represents profound spiritual teaching put into practice. The magic of the ritual revolves around the idea of the interconnectedness of everything in the universe. It focuses an individual's attention on the place within themselves which resonates with the outer conflict. By turning inward and using the four short magical sentences of the healing ritual, not only is the door opened for personal miracles, but the world is healed as well. Beautifully designed and illustrated with exotic photographs, the book draws the reader into a peaceful world to learn about this ancient tradition. Duprée explains the ritual, both historically and practically, in a gentle, easy-to-understand manner, always keeping an eye on helping the reader put theory into practice. Customers will find it hard to resist this magical, upbeat treasure."
— Anna Jedrziewski, Retailing Insight

"Ho'oponopono is a spiritual-soul method of purification that cleanses us from fears and worries, destructive relationship patterns, and any religious dogmas and paradigms that oppose our personal and spiritual development. It cleans out the blockages in our thoughts and cell structure, for our thoughts are made manifest in our body. This is the paradigm change."
— Annie B Bond, Terra Spheres

"Perhaps you've heard of these four 'magic' sentences: 'I'm sorry. Please forgive me. I love you. Thank you.' The use of these sentences is called Ho'oponopono… the ritual dates back thousands of years… recently, it has been taught as part of the ancient Hawaiian teachings called the 'Huna.' This delightful little book gives the history of the practice and shows how using it in a variety of situations can change a person's life. The practice is simple, so simple you might be tempted to ignore it. Don't make that mistake. Invest in this little book, give the practice a try and see for yourself what happens."
— New Spirit Journal

"I know how important for a healthy, whole attitude to life the art and practice of forgiveness can be. This is beautiful little piece of invaluable inspiration and slips neatly into a pocket or handbag to keep close by."
— Bill Anderton, pilgrimsmindbodyspirit.co.uk