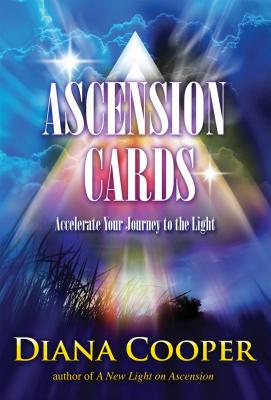 Ascension Cards (Mixed media product)
Accelerate Your Journey to the Light
Findhorn Press, 9781844096008, 80pp.
Publication Date: September 1, 2012
* Individual store prices may vary.
Description
These beautiful ascension cards are designed to assist those seeking to start on a personal ascension path or to accelerate journeys to the light. Each of the 52 cards offers a description of a specific ascension energy or Ascended Master, guidance on its use, and an affirmation to assist with assimilation of the wisdom. Through them individuals will work with the gold and silver violet flame for transformation and raise the energy in themselves and others, call in unconditional love, and draw on the elements to bring hope, peace, and love to the world, among others. The subjects range from the 12 chakras and fire through Commander Ashtar and Mother Mary's aquamarine mantle. These cards may be employed in a variety of ways — such as a daily source of guidance and inspiration, a point of study for a group discussion, a source for determining which areas of an ascension path require the most immediate attention, or as a 52-step study course for ascension. Seekers may choose to work with the cards in order, to select one a week for a year, or to identify one card for intensive study. The accompanying booklet offers broader insight into ascension in general.
About the Author
Diana Cooper is a therapist, healer, author of several books, and the founder of the Diana Cooper Foundation. Her journey started during a time of personal crisis when she received an angel visitation that changed her life. Since then the angels and her guides have taught her about the angelic realms, unicorns, fairies, Atlantis, and Orbs as well as many other spiritual subjects. Through her workshops and therapy practice she has helped countless people find their life mission, fulfill their potential, and empower their lives. Diana's aim and vision is to light the way to enable children, adults, and the planet to ascend graciously and happily.

Richard Crookes has more than 30 years' experience as a freelance artist, illustrator, and calligrapher. He has worked on many card decks, including the award-winning Angels of Atlantis Oracle Cards, The Angel and Gemstone Guardians Cards and, with Alison Chester-Lambert, MA Astrology Reading Cards. He lives in Bangkok, Thailand.
Praise For Ascension Cards: Accelerate Your Journey to the Light…
"The leading authority on The Ascension, Diana Cooper now brings us the perfect oracle to guide us through every stage of this remarkable period of transformation - beautifully easing us into a new era of light."

"As a busy person these cards are perfect for me - I can dip in when time allows knowing that each card I pick carries an important activation to the light, and the short accompanying booklet offers a wealth of information and guidance."

"The affirmations on the cards motivate you to open your heart and soul to positive energy and love in order to reach a higher level of existence. They encompass a wide range of beliefs that will resonate with a lot of people to encourage spiritual balance and growth. I enjoyed reading them and I look forward to taking more time with every card to get the full benefit of each lesson."

"Ascension super star Diana Cooper has condensed her extensive knowledge of the accelerated spiritual growth we are all experiencing at this time into 52 insightful cards and a 76-page companion book. Each of the cards contains a synopsis of one ascension-related topic and an affirmation to help contact that specific energy."

"This enlightening kit of 52 cards and accompanying 72 page booklet pack a one, two punch that can be felt all the way to Heaven. I was in total awe at the way the author took all this amazing info geared toward spiritual growth and development and was able to break it down into such a cohesive package. Each card holds a glorious spiritual nugget targeting a particular lesson, guidance on how to achieve it and an affirmation to help us bring it to focus."