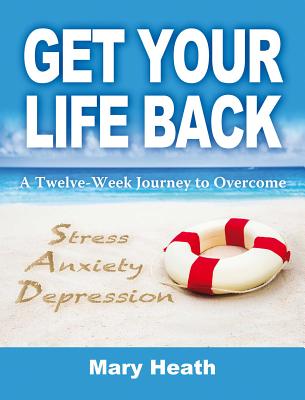 Get Your Life Back (Paperback)
A Twelve-Week Journey to Overcome Stress, Anxiety and Depression
Findhorn Press, 9781844096770, 240pp.
Publication Date: September 21, 2015
* Individual store prices may vary.
Description
A 12 WEEK JOURNEY TO PEACE OF MIND

Will help anyone who experiences any of the following:

Stress at home or in the workplace
General Anxiety State or Anxiety Disorders such as OCD and Phobias
Panic Attacks
Depression, Low Mood or Melancholia Low Confidence and Self-Esteem

If you have reached Breakdown or Burnout, this unique and life changing book will be invaluable to you. Whilst working in a mental health setting for 30 years Mary Heath soon discovered that everyone she encountered shared a similar problem: no one appeared to have any knowledge at all of how to cope with the stress of life and its consequences. The great majority of patients had no coping skills or strategies at all. No one had been taught how to deal with stress, and many didn't even know what stress was and why they felt so helpless, so alone and so afraid. Mary on the other hand had a very large tool box and a set of skills that helped all of them to change their lives around and become healthier and stronger in every way. Having been trained in many disciplines in the field of stress, anxiety, depression and personal development she was able to tailor an individual's requirements, according to their specific needs. Working with a wide-ranging and extensive variety of therapies Mary taught people not just how to cope but how to really live again. Many of the techniques and therapies Mary used can be found in this book and include: The Simple Principles of the Philosophy of Yoga Pranayama--a unique sequence of breath control exercises Relaxation, Meditation and Mindfulness Stress and Anxiety Management Depression Management Cognitive Behavioural Therapy (CBT) Self-Esteem and Confidence Building Neuro-Linguistic Programming (NLP) Emotional Freedom Technique (EFT) Life Coaching
About the Author
Mary Heath has 30 years' experience in the Private Sector and the British National Health System as a Stress Management Consultant, Counsellor and Life Coach, working one-to-one as well as developing and delivering courses, workshops and seminars. She is a trained Yoga Teacher and has embraced other therapies such as EFT, CBT and NLP.
Praise For Get Your Life Back: A Twelve-Week Journey to Overcome Stress, Anxiety and Depression…
"We are all part of the overwhelming and joyous experience of the flow of divine unfolding. In this fascinating book Mary takes us for the first time in history on a systematic journey through the different layers of spiritual awakening. A must read for all who are waking up to enlightenment."
— Dr. Hans van Latenstein, philosopher

"I love this book and it is no exaggeration to say that in reviewing it I have benefitted enormously. I have tried every excise, activity, suggestion, considered the advice, reflected on my own thoughts and experiences, and as a result I feel calmer, more optimistic and life is more enjoyable! In turn I will recommend to and use this book with my family, friends, colleagues and students to help them make the positive connections in their lives too."
— Ruth Lawton, Senior Learning and Teaching Fellow for Employability, Birmingham City University

"Anxiety, stress and depression are serious problems experienced by most of us at various points in our lives. Get Your Life Back offers a serious yet compassionate self-help approach towards overcoming these difficulties and developing resilience in the longer term. Both the structure and content are easy to grasp and highly informative. I would highly recommend this book."
— Dr Andrew Papadopoulos, Consultant Clinical Psychologist
or
Not Currently Available for Direct Purchase