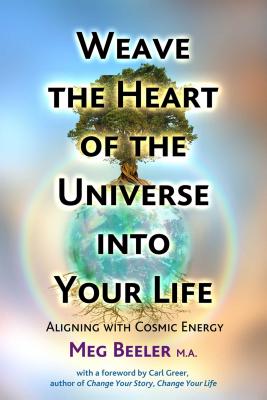 Weave the Heart of the Universe into Your Life
Aligning with Cosmic Energy
Paperback

* Individual store prices may vary.
Description
This transformational guide offers you simple, effective, potent ways to connect with the energy, mystery, and power of nature and the universe.

Imbued with indigenous wisdom and shamanic insight, "Weave the Heart of the Universe into Your Life" guides you in dissolving worry and self-doubt as you find fluidity in the face of complexity. It offers you medicine for your soul and spirit. Shamanic teaching tells us that we live in a cosmos in which all things are connected. Through Energy AlchemyTM--practices, insights, meditations and animist perceptions adapted to modern life--you will discover how to lift heaviness from your heart and open up to the beauty and harmony found in a true connection with the universe. Author Meg Beeler offers you 84 experiential practices to help you:

• Let go of patterns and stories that weigh you down.
• Reconnect with the amazing, interconnected web of life.
• Make space for light--the light of the cosmos and your own essence--to fill you.
• Thrive and live profoundly in joyful celebration of life. A potent journey of re-enchantment with nature, expanded perception, and connection with the heart of the universe awaits you.
Praise For Weave the Heart of the Universe into Your Life: Aligning with Cosmic Energy…
"In a simple and step-by-step guide, Meg accompanies those who are ready to reconnect with Mother Earth and sing heart-songs to connect with the cosmos. In the changing world, and with public thirst for spirituality and soul-searching processes, Weave the Heart of the Universe into Your Life is a most recommended book."
— Bhola Banstola, President, Cultural Association, NEPAL Shaman

"This book will be a welcome guide for anyone seriously interested in spiritual and intuitive growth."
— Cynthia Sue Larson, author of iReality Shifts and Quantum Jumps

"In a time when many of us are constantly analyzing and seeking to understand our habits and motivations, it is helpful to know there are ways in which we can change and improve ourselves - and our environment - by shifting our own energy. Meg Beeler's clear explanations and step-by-step techniques adapted to our western culture make this powerful work accessible to those who are interested in exploring this healing path."
— Marge Hulburt, shamanic practitioner and author of Finding Eagle: A Journey to Modern-Day Shamanism
Findhorn Press, 9781844097395, 240pp.
Publication Date: September 12, 2017
About the Author
Meg Beeler, Shamanic Guide, weaves animist principles, Shamanic Meditations, and Energy Alchemy™ to guide seekers into harmonious connection with nature and the cosmos. A lifelong explorer of wholeness and consciousness, Meg has traveled the world in search of traditional indigenous and shamanic wisdom. She's been to the high mountains of the Andes and Himalayas, the savannahs of Africa, and the jungles of the Amazon. She lives and teaches on Sonoma Mountain in the San Francisco Bay Area.

Carl Greer PhD, PsyD is a practicing clinical psychologist and Jungian analyst using shamanic healing methods as his primary healing modality. After focusing on business for many years, he earned a doctorate in clinical psychology, and then became a Jungian analyst.
or
Not Currently Available for Direct Purchase