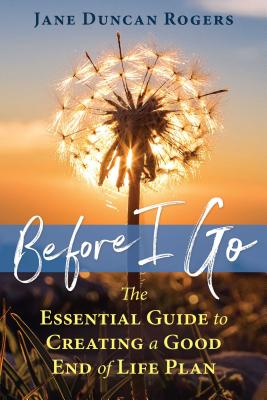 Before I Go
The Essential Guide to Creating a Good End of Life Plan
Paperback

* Individual store prices may vary.
Description
A compassionate, practical guide to end-of-life matters, empowering us to clarify and share our wishes and continue to live life to the fullest

• Addresses the emotional, spiritual, and practical aspects of end-of-life planning to help you prepare well for your death

• Enables the reader to make well-informed decisions about their end-of-life care and facilitate conversations with family and friends about this difficult topic

• Includes guiding questions, exercises, and recording tools, as well as worksheets available for download and supportive online courses

Many people say "I wish I had known what they wanted" when their loved one has died. Too often, a person's wishes for end-of-life care, and for after they have gone, have not been recorded. With this valuable guide, you can now begin to do this for yourself, so your relatives will be able to honor your wishes more easily, saving them unnecessary stress and upset at a potentially intense time.

Before I Go addresses the emotional, spiritual, and practical aspects of end-of-life planning to help you make well-informed decisions about your end-of-life care and prepare well for your death. Jane Duncan Rogers guides you with equanimity, care, and humor through subjects such as how to have a conversation about dying, the impact of grief on relatives responsible for estate matters, DIY funerals and what that entails. She states clearly what you need to have in place to ensure the best end of life possible, helps you identify your values and beliefs in this area, and demonstrates which actions you then need to take, and when. With a full resource pack of essential information available to you, including guiding questions, exercises, and recording tools, as well as downloadable worksheets and supportive online courses, decision-making will be much easier and you will find relief and peace of mind knowing you have taken care of outstanding matters.

You will also be giving a great gift to your loved ones. When they have this information in advance, you spare them many difficult decisions and administrative hassle at a time when they will be grieving and not in a fit state to cope. It can bring great comfort to those left behind to know they are indeed carrying out your wishes. It also provides an opportunity for you to record your achievements and history, giving them a legacy they would otherwise not have.

You can update your wishes at any time, meaning you'll have a sense of control of your life and its ending and feel confident that if anything happens to you suddenly, you and your family will be as well-prepared as possible to deal with it. With your end-of-life wishes clearly defined, you gain the freedom to continue living your life to the full, knowing the difficult decisions have been handled.
Praise For Before I Go: The Essential Guide to Creating a Good End of Life Plan…
"I recommend Before I Go to everyone I know. Creating a good end of life plan is helpful in so many ways. Not least, it is an eminently practical guide to living your life to the fullest NOW!"
— ROBERT HOLDEN, author of Shift Happens, Loveability and Happiness Now

"Loving, caring, and careful, this is a wonderfully practical book for everyone. Sooner or later we all have to manage the process of approaching death--either our own or our loved ones. This single compassionate book will take you through everything you need to know. The highest praise I can give is that I will use it myself. So thank you, Jane. I am grateful."
— WILLIAM BLOOM, author of The Power of Modern Spirituality and The Endorphin Effect

"Jane has produced nothing less than a work of true art in completing this guidebook, Before I Go. Those of us who work in the field of death and dying have been waiting for such a comprehensive, passionate, resourceful, and thoroughly researched manual. I trust this book because I trust the authenticity of its author. Jane's own face-to-face experiences with death when her beloved Philip died show us that she knows well the places of rawness in the human heart. I trust Jane as a companion for mine and will recommend this book to friends and students alike. And having listened to Jane's advice I have decided, "before I go" I will plan my own happy death!"
— PHYLLIDA ANAM-AIRE, author of A Celtic Book of Dying, Celtic Wisdom and Contemporary Living

"From spiritual seekers to pragmatists like me, there will be something for everyone in Jane's book. It will help those who've done a journey of loss and grief, those whose health signals a predictable trajectory, and those who are hail and hearty and just want to be prepared, whatever the future holds. I feel I can confidently guarantee that whoever you are, wherever you're coming from, you will find something in Jane's words of wisdom that resonate, and you'll find yourself thinking: 'Aha, that's why I'm reading this book'."
— BARBARA CHALMERS, founder of Final Fling and author of Too Busy To Die?

"As doctors, we say 'prevention is better than cure'. Jane's approach to end of life is very positive. She provides all the tools for a plan which can be easily accessed at the time of death by any member of the family. Because it has been taken care of many months before, there are no surprises, so loved ones feel the immediate benefit and can go forward with confidence knowing what was wanted, even just by doing the 'How Prepared Are You?' quiz. I say, 'prevent the pain with the plan'."
— DR. DOREEN MILLER, author of The Healthy Business Bridge

"Without Jane's help, we wouldn't have done anything other than a will and some financial information; and we'd have been much less organized. Through our work with her, and the very useful discussions and information, we got clear about what we wanted and didn't want and wrote it down. Jane had a gift for getting us disciplined in a very supportive way, and working together as a couple doing this has made us realize how invaluable it has been.
— DELCIA McNEIL, author of Bodywork Therapies for Women, and RUSSELL McNEIL, homeopath

"This is a way to bring the many facets of planning for end of life into one place. There are so many things to think about, and also the ones you don't know to think about! Jane's approach for planning and her style of conversation and gentle prodding make it much easier to think about the 'how' of planning for end of life, no matter what stage you're in. While I plan with my mother, I am also having conversations with my husband. As we get older our plan will change, but we do now have a plan and know what the other wants."
— MARY VARGAS, founder of Achieve Consulting Group, LCC

"For anyone who has a blended family or has been remarried, this course and workbook is a MUST! Having the excuse that I had an assignment from Jane's course made it easy to open the conversation with my husband, when previously I could not hold his attention for 15 minutes on this topic. And now I feel like I have created a 'living document,' not a 'death document'."
— PATTY BURGESS BRECHT, president of Possibility

"Being on the course drove home how much this service is needed; I simply would not do this without handholding. The gap between thinking about it and actually doing it was made blazingly apparent."
— MYSTE ANDERSON, founder of Bittersweet Blessing
Findhorn Press, 9781844097500, 192pp.
Publication Date: July 3, 2018
About the Author
Jane Duncan Rogers is an award-winning life and death coach who helps people prepare well for a good end of life. Having been in the field of psychotherapy and personal growth for 25 years, she is founder of Before I Go Solutions, dedicated to educating people about dying, death, and grief. Jane lives within the Findhorn community in Scotland, UK.