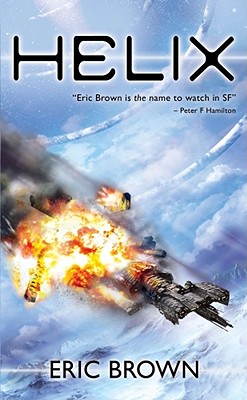 Helix (Mass Market Paperbound)
Solaris, 9781844164721, 526pp.
Publication Date: May 22, 2007
* Individual store prices may vary.
or
Not Currently Available for Direct Purchase
Description
Helix is a fast-paced action adventure novel following the plight of four humans when they crashland on what they think is a desolate, ice-bound planet. Daylight brings the discovery that the planet is one of thousands arranged in a vast spiral wound about a central sun. They set off to discover a more habitable, Earth-like world and come across strange races of aliens, and life-threatening perils, on their way.
About the Author
Born in West Yorkshire, England in 1960, Brown has lived in Australia, India, and Greece. He began writing when he was fifteen and sold his first short story to Interzone in 1986. His story "The Time-Lapsed Man" won the Interzone readers' roll for the most admired story of 1988. He has won the British Science Fiction Award twice for his short stories and has published over twenty books: SF novels, collections, books for teenagers and younger children, as well as radio plays, articles and reviews. His latest books include the collection Threshold Shift, the novella The Extraordinary Voyage of Jules Verne, and the children's book Crazy Love. He is married to the writer and mediaevalist Finn Sinclair, and has one daughter, Freya. He lives in Hebden Bridge, West Yorkshire, United Kingdom. His website can be found at: : http: //ericbrownsf.port5.com/
Advertisement