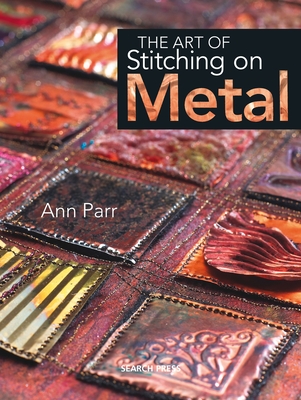 The Art of Stitching on Metal (Hardcover)
Search Press, 9781844482252, 128pp.
Publication Date: April 1, 2009
* Individual store prices may vary.
Description
Ann Parr's unique and awe-inspiring art of stitching on metal is showcased here, in this her first book. Her work ranges from jewellery to richly decorated boxes and panels, and represents a rare fusion of traditional and contemporary methods and design which cannot fail to excite and inspire.
Appealing to multi-media artists, textile artists, embroiderers and indeed anyone with a love of beautiful, innovative works of art, this book is a treasure trove of ideas and inspiration. It provides not only a wealth of information on materials and methods, but also twelve step-by-step projects and numerous stunning photographs of Ann's own pieces, and so contains everything you need to explore this fascinating art. Discover how to create fantastic effects on metal by heating it, treating it with bleach, vinegar and other corrosive household substances, and adding texture and colour through foiling, stamping, stencilling, embossing and more. A thorough exploration of machine-stitching on metal covers everything from free-machining to decorative stitching, and the sections on woven metal strips, edgings, braids, beads, tassels, cords and a wide range of decorative finishes will not fail to fuel your enthusiasm and creativity. Finally, the twelve projects featured throughout the book will allow you to make some gorgeous items of your own, including a beautiful pewter pendant, a colourful brooch, decorative panels to adorn your home, and a fabulous metal-woven doll.
About the Author
Ann Parr is a professional artist and embroider. She was the recipient of the City and Guilds Medal for excellence in machine embroidery in 2000 and her work was awarded first prize by the Worshipful Company of Broderers in 2005.
Praise For The Art of Stitching on Metal…
"Thank goodness that [Ann] has written this book to explain it all to us."  Workshop on the Web
"Packed with inspiration . . . you won't be able to wait to get started!"  Stitch
"A 'must have'  for everyone who enjoys machine embroidery."  Machine Knitting Monthly
"Unique and inspiring."  myshelf.com
"An inspiring title for multi-media stitchers." 
Sewing World
"If you have ever thought about including metal in your art, [this book] will convince you to do it."  Quilting Arts Magazine
or
Not Currently Available for Direct Purchase