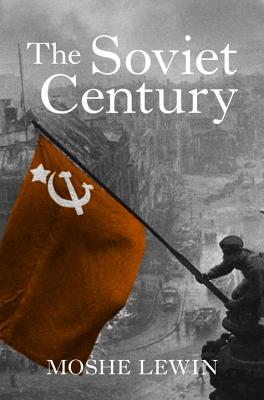 The Soviet Century (Hardcover)
Verso, 9781844670161, 407pp.
Publication Date: February 17, 2005
Other Editions of This Title:
Paperback (10/11/2016)
* Individual store prices may vary.
Description
The USSR may no longer exist, but its history remains highly relevant—perhaps today more so than ever. Yet it is a history which for a long time proved impossible to write, not simply due to the lack of accessible documentation, but also because it lay at the heart of an ideological confrontation which obscured the reality of the Soviet regime.

In The Soviet Century, Moshe Lewin traces this history in all its complexity, drawing widely upon archive material previously unavailable. Highlighting key factors such as demography, economics, culture and political repression, Lewin guides us through the inner workings of a system which is still barely understood. In the process he overturns widely held beliefs about the USSR's leaders, the State-Party system and the Soviet bureaucracy, the "tentacled octopus" which held the real power.

Departing from a simple linear history, The Soviet Century takes in all the continuities and ruptures that led, via a complex route, from the founding revolution of October 1917 to the final collapse of the late 1980s and early 1990s, passing through the Stalinist dictatorship and the impossible reforms of the Khrushchev years.
About the Author
Moshe Lewin was a hugely respected historian of the Soviet Union. Professor of Soviet Studies at the University of Pennsylvania, his books include Stalinism and Nazism: Dictatorships in Comparison and The Making of the Soviet System: Essays in the Social History of Interwar Russia.
Praise For The Soviet Century…
"Probably no other Western historian of the USSR combines Moshe Lewin's personal experience of living with Russians from Stalin's day—as a young wartime soldier—to the post-communist era, with so profound a familiarity with the archives and the literature of the Soviet era. His reflections on The Soviet Century are an important contribution to emancipating Soviet history from the ideological heritage of the last century and should be essential reading for all who wish to understand it."—Eric Hobsbawm

"Rich in its insights and original in its perspectives, Moshe Lewin's superb new book provides a master-class in understanding the structures and intricate workings of the Soviet system."—Ian Kershaw

"The Soviet Century is an original and stimulating survey, packed with insights and information, by an outstanding historian. It will enlighten both specialists and general readers about a crucial aspect of the modern world."—R. W. Davies

"Moshe Lewin ... has written a book of gripping scholarship. In The Soviet Century he shows that the world cannot turn its back on Russia's past, and neither Russians nor anyone else should try to do so. As Lewin writes, the Soviet system may be dead and buried but it lives on in Russia's search for a national identity. This search needs to be based on the truth, good or bad, about what happened under Communism. The Soviet Century is an excellent place to look for it."—Mark Harrison
or
Not Currently Available for Direct Purchase