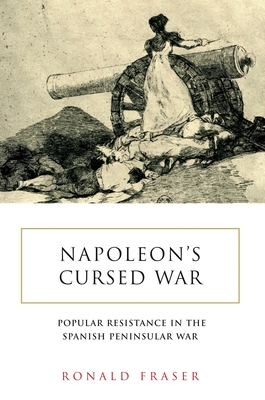 Napoleon's Cursed War: Spanish Popular Resistance in the Peninsular War, 1808-1814 (Hardcover)
Spanish Popular Resistance in the Peninsular War, 1808-1814
Verso, 9781844670826, 587pp.
Publication Date: March 1, 2008
* Individual store prices may vary.
or
Not Currently Available for Direct Purchase
Description
In this definitive account of the Peninsular War (1808 14), Napoleon's six-year war against Spain, Ronald Fraser examines what led to the emperor's devastating defeat against the popular opposition the guerrillas and their British and Portuguese allies. As well as relating the histories of the great political and military figures of the war, Fraser brings to life the anonymous masses the artisans, peasants and women who fought, suffered and died and restores their role in this barbaric war to its rightful place while overturning the view that this was a straightforward military campaign. This vivid, meticulously researched book offers a distinct and profound vision of Napoleon's Vietnam and shows the reality of the disasters of war: the suffering, discontents and social upheaval that accompanied the fighting.
About the Author
Ronald Fraser is the leading oral historian of twentieth-century Spain. He is the author of several books, including "In Hiding, In Search of a Past," " Blood of Spain" and" Napoleon s Cursed War.""
Praise For Napoleon's Cursed War: Spanish Popular Resistance in the Peninsular War, 1808-1814…
"Fraser has re-created a world, barely glimpsed by previous historians, of the Spanish popular resistance and suffering during the anti-Napoleonic war ... An excellent work."—Carlos Martinez Shaw, El Pais

"Napoleon's Cursed War marks a fundamental milestone in the war's historiography, both past and future. It is a superb complement to Fraser's classic Blood of Spain, of 'history from below.'"—Ricardo Garcia Carcel, ABC

"Fraser has breathed life into a historic era... The real protagonist of his work is the people and their tragedy."—Luis Ribot, El Mundo

"Like Goya in The Disasters of War, Fraser has engraved in the written word the spirit and sacrifices of the popular anti-Napoleonic resistance, a precursor of the anti-fascist resistance of the [Spanish] Civil War."—Andreu Mayayo, El Periodico de Catalunya
Advertisement