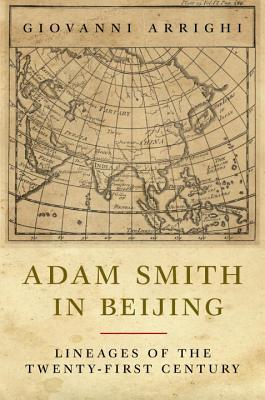 Adam Smith in Beijing (Hardcover)
Lineages of the Twenty-First Century
Verso, 9781844671045, 418pp.
Publication Date: November 17, 2007
Other Editions of This Title:
Paperback (1/5/2009)
* Individual store prices may vary.
Description
In the late eighteenth century, the political economist Adam Smith predicted an eventual equalization of power between the conquering West and the conquered non-West. In this magisterial new work, Giovanni Arrighi shows how China's extraordinary rise invites us to read "The Wealth of Nations "in a radically different way than is usually done. He examines how the recent US attempt to bring into existence the first truly global empire in world history was conceived in order to counter China's spectacular economic success of the 1990s, and how the US's disastrous failure in Iraq has made the People's Republic of China the true winner of the US War on Terror. In the 21st century, China may well become again the kind of noncapitalist market economy that Smith described, under totally different domestic and world-historical conditions.
About the Author
Giovanni Arrighi (1937 2009) was Professor of Sociology at Johns Hopkins University. His books include "The Long Twentieth Century," "Adam Smith in Beijing," and, with Beverly Silver, "Chaos and Governance in the Modern World System." His work has appeared in many publications, including "New Left Review" who published an interview on his life-long intellectual trajectory in March April 2009, and an obituary in Nov Dec 2009 and there are more accounts on his memorial website."
Praise For Adam Smith in Beijing: Lineages of the Twenty-First Century…
"In this deeply learned, sharply argued, and fascinating book Giovanni Arrighi shows that the mandate of capitalist heaven is shifting to China, more generally to East Asia, but Americans won't like it. We are witnessing both a return to centuries of past practice, and an auger for a 21st century that, in his view, will be defined by East Asian advance and American retreat. Meanwhile Professor Arrighi offers a truly insightful analysis of the thought of a great political economist: Adam Smith. This is by far the best book to date in the rapidly-growing literature on 'China's rise.'"—Bruce Cummings

"Proceeding from a bracing re-reading of Smith and Marx, through a reconsideration of the 'Great Divergence' of East and West, to a blistering deconstruction of the Project for a New American Century, Arrighi dismisses neo-liberal interpretations of China's economic 'miracle' and credits instead China's own robust market economy tradition. In the process, he leads us on a breathtaking tour of the history of world capitalism over the past three hundred years, and suggests where we may be headed in the future."—William T. Rowe

"In this wonderfully provocative and wide-ranging book, Arrighi offers a fresh and challenging interpretation of China's economic ascent."—Gillian Hart

"The convincing power of Arrighi's argument lies in his choice to conceive geopolitics as the endless process of construction of political cultures associating class conflicts and collective commonwealth in different specific ways."—Samir Amin

"An original, brilliant, always powerfully challenging analysis."—Wang Hui

"In the vast landscape of literature on China rising Giovanni Arrighi´s Adam Smith in Beijing stands out as a beacon of bold creativity and as pursuing a sustained trail-blazing argument."—Goran Therborn
or
Not Currently Available for Direct Purchase