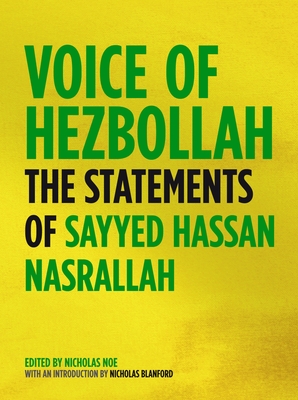 Voice of Hezbollah
The Statements of Sayyed Hassan Nasrallah
Paperback

* Individual store prices may vary.
Description
In July 2006, with the commencement of hostilities between Israel and Hezbollah, Sayyed Hassan Nasrallah, the longstanding secretary general of the "Party of God," burst into the spotlight of the Western media — cast, almost inevitably, as an even more dangerous incarnation of Osama bin Laden. Yet well before the start of the war, Nasrallah had acquired an almost unrivalled credibility in the Arab world among admirers and detractors alike, a profile that soared in May 2000 when he became the first leader to push Israel out of Arab land.

Voice of Hezbollah brings to an English-speaking readership for the first time Nasrallah's speeches and interviews: the intricate, deeply populist arguments and promises that he has made from the mid-1980s to the present day. Newly translated from the Arabic, and with an introduction by one of the foremost writers on Lebanon, Voice of Hezbollah is critical to the understanding of the man and the movement.
Verso, 9781844671533, 432pp.
Publication Date: August 17, 2007
About the Author
Sayyed Hassan Nasrallah is the Secretary General of the Lebanese Islamist party and paramilitary organization Hezbollah. Nasrallah became the leader of Hezbollah after Israel assassinated the movement's leader Abbas al-Musawi in 1992.

Nicholas Noe is founder and editor-in-chief of the Beirut-based news translation service mideastwire.com. He was previously a news editor on the Lebanon Daily Star/Herald Tribune, and has written for numerous regional and international publications.

Ellen Khouri is a consultant on human rights and democracy, and managing director of the Lebanese publisher Al-Kutba. She has worked as a translator and editor for over 25 years.

Nicholas Blandford is Beirut correspondent for The Times, the Christian Science Monitor and the Lebanon Daily Star; he is the author of Killing Mr Lebanon: The Assassination of Rafik Hariri and Its Impact on the Middle East.