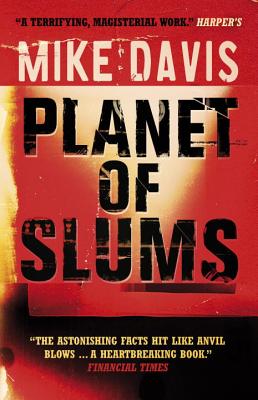 Planet of Slums (Paperback)
Verso, 9781844671601, 228pp.
Publication Date: September 17, 2007
Other Editions of This Title:
Paperback (1/17/2017)
Hardcover (3/17/2006)
* Individual store prices may vary.
Description
According to the united nations, more than one billion people now live in the slums of the cities of the South. In this brilliant and ambitious book, Mike Davis explores the future of a radically unequal and explosively unstable urban world. From the sprawling barricadas of Lima to the garbage hills of Manila, urbanization has been disconnected from industrialization, and even from economic growth. Davis portrays a vast humanity warehoused in shantytowns and exiled from the formal world economy. He argues that the rise of this informal urban proletariat is a wholly unforeseen development, and asks whether the great slums, as a terrified Victorian middle class once imagined, are volcanoes waiting to erupt.
About the Author
Mike Davis is the author of several books including Planet of Slums, City of Quartz, Ecology of Fear, Late Victorian Holocausts, and Magical Urbanism. He was recently awarded a MacArthur Fellowship. He lives in Papa'aloa, Hawaii.
Praise For Planet of Slums…
"A profound enquiry into an urgent subject … a brilliant book."
—Arundhati Roy

"With cool indignation, Davis argues that the exponential growth of slums is no accident but the result of a perfect storm of corrupt leadership, institutional failure, and IMF-imposed programs leading to a massive transfer of wealth from rich to poor … Like the work of Jacob Riis, Ida Tarbell, and Lincoln Steffens over a century ago, this searing indictment makes the shame of our cities urgently clear."
—Michael Sorkin

"The Raymond Chandler of urban geography … In Planet of Slums, Davis's genre is the global disaster movie, as directed by the chroniclers of Victorian poverty: Engels, Booth and Dickens. The scale of modern squalor revealed in his brilliant survey dwarfs its predecessors … a coruscating tragedy."
—Independent

"The astonishing facts hit like anvil blows … Davis has produced a heartbreaking book that hammers the reader a little further into the ground with the blow of each new and shocking statistic."
—Financial Times

"A terrifying, magisterial work."
—Harper's

"There can be no doubt about the achievement of Planet of Slums … it forces us, angrily, to confront the deplorable realities of slum existence and the limitations of slum policies in many developing countries."
—Times (London)

"While many case studies have described what it means to reside in a favela, basti, kampung, gecekondu or bidonville, Davis provides a properly global portrait … And whereas urban specialists have focused on questions of space and land use in their discussions of slums, and developmentalists on the issue of their 'informal economies', Planet of Slums commands our attention as a broader historical synthesis of the two."
—New Left Review

"Davis's descriptions of the conditions endured by slum-dwellers provide reason enough to read this book. His analysis is full of gripping stories from globalization's frontline."
—New Statesman

"Packed with rigorous analysis and heart-stopping facts, this is a brilliant exploration of how millions of poor city-dwellers worldwide are being driven to the squalid periurban shadowlands of today's megaslums … Davis's book is absolutely vital reading."
—Big Issue