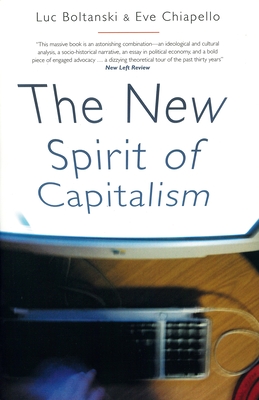 The New Spirit of Capitalism (Paperback)
Verso, 9781844671656, 601pp.
Publication Date: September 17, 2007
* Individual store prices may vary.
Description
Why is the critique of capitalism so ineffective today? In this major work, the sociologists Eve Chiapello and Luc Boltanski suggest that we should be addressing the crisis of anticapitalist critique by exploring its very roots.

Via an unprecedented analysis of management texts which influenced the thinking of employers and contributed to reorganization of companies over the last decades, the authors trace the contours of a new spirit of capitalism. From the middle of the 1970s onwards, capitalism abandoned the hierarchical Fordist work structure and developed a new network-based form of organization which was founded on employee initiative and relative work autonomy, but at the cost of material and psychological security.

This new spirit of capitalism triumphed thanks to a remarkable recuperation of the "artistic critique"—that which, after May 1968, attacked the alienation of everyday life by capitalism and bureaucracy. At the same time, the "social critique" was disarmed by the appearance of neocapitalism and remained fixated on the old schemas of hierarchical production.

This book, remarkable for its scope and ambition, seeks to lay the basis for a revival of these two complementary critiques.
About the Author
Luc Boltanski teaches sociology at the EHESS, Paris. He is the author of numerous books, including The Making of a Class and The New Spirit of Capitalism.

Eve Chiapello is an associate professor at the HEC School of Management, Paris. She is the author of Artistes versus Managers.

Gregory Elliott is a member of the editorial collective of Radical Philosophy and author of Althusser: The Detour of Theory and Labourism and the English Genius: The Strange Decay of Labour England?.
Praise For The New Spirit of Capitalism…
"This massive book is an astonishing combination—an ideological and cultural analysis, a socio-historical narrative, an essay in political economy, and a bold piece of engaged advocacy … a dizzying theoretical tour."
—New Left Review

"A wide-ranging, nuanced sociological inquiry into the nature of contemporary work."
—Choice

"[A] vast and ambitious work, which is inscribed in a great tradition of theoretical and critical sociology."
—Le Monde

"This magnificent book [is] the sociology of a whole generation which capitalism caught on the wrong foot. In more than 800 pages which one devours like a great novel, the book furnishes new weapons for the renewal of the Left."
—Libération

"This book will no doubt come to be regarded as a contemporary classic of political economy and political sociology."
—Political Studies Review

"Ambitious and fascinating."
—Le Nouvel Observateur
or
Not Currently Available for Direct Purchase