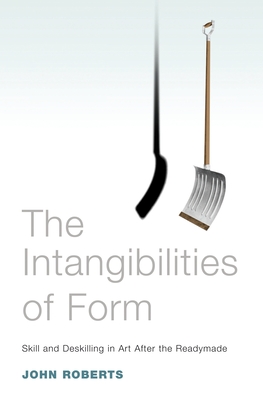 The Intangibilities of Form
Skill and Deskilling in Art after the Readymade
Paperback

* Individual store prices may vary.
Other Editions of This Title:
Hardcover (12/17/2007)
Description
In this intellectually wide-ranging book John Roberts develops a labor theory of culture as a model for explaining the dynamics of avant-garde art and the expansion of artistic authority in the twentieth and twenty-first centuries.

From Duchamp to Warhol, conceptual art, and the "post-visual" practices of the moment, Roberts explores the relationship between artistic labor and productive labor, and the limits and possibilities of authorship. In doing so, he confronts a recurring theme of both conservative and radical detractors of modern art in the twentieth and twenty-first centuries: how is skill, and the seeming absence of skill in modern art, to be theorized and evaluated? Drawing on cognitive psychology, labor process theory, social anthropology, and debates in contemporary political philosophy, Roberts' book establishes a new critical topography for examining the cultural form of art today.
Praise For The Intangibilities of Form: Skill and Deskilling in Art after the Readymade…
"A profoundly original approach to the fate of the aesthetic and the avant-garde in contemporary society through the labour theory of culture ... Over the last two decades, John Roberts has established himself as probably the most original Marxist critic of the contemporary visual arts around."—Andrew Hemingway

"Roberts' Intangibilities of Form is a truly important book. It offers an unusually thoughtful, and genuinely radical, alternative to dominant ways of understanding the nature of art in the twentieth century and at the beginning of the twenty-first."—Alex Potts

"The Intangibilities of Form proposes nothing less than a powerfully original labor theory of culture, highlighting the prominence of a context shaped by the readymade, to account for the constitutive interlacing of contemporary art and technology, skill and deskilling. By situating the instance of conceptual art within an environment of production marked by the structuring logic of the commodity form and social division of labor, he has both restored to art criticism and art history a lost vocation, and delivered to cultural studies and its current explanatory ambitions a demanding challenge."—Harry Harootunian
Verso, 9781844671670, 256pp.
Publication Date: November 17, 2007
About the Author
John Roberts is Professor of Art and Aesthetics at the University of Wolverhampton. His books include The Art of Interruption: Realism, Photography and the Everyday; The Philistine Controversy (with Dave Beech), Philosophizing the Everyday, and The Necessity of Errors. He is also a contributor to Radical Philosophy, Oxford Art Journal, Historical Materialism, Third Text, and Cabinet magazine. He lives in London.