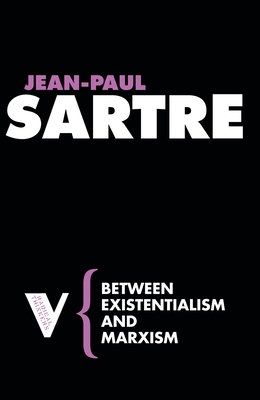 Between Existentialism and Marxism (Paperback)
Verso, 9781844672073, 302pp.
Publication Date: January 17, 2008
* Individual store prices may vary.
Description
This book presents a full decade of Sartre's work, from the publication of the Critique of Dialectical Reason in 1960, the basic philosophical turning-point in his postwar development, to the inception of his major study on Flaubert, the first volumes of which appeared in 1971. The essays and interviews collected here form a vivid panorama of the range and unity of Sartre's interests, since his deliberate attempt to wed his original existentialism to a rethought Marxism.

 

A long and brilliant autobiographical interview, given to New Left Review in 1969, constitutes the best single overview of Sartre's whole intellectual evolution. Three analytic texts on the US war in Vietnam, the Soviet invasion of Czechoslovakia, and the lessons of the May Revolt in France, define his political positions as a revolutionary socialist. Questions of philosophy and aesthetics are explored in essays on Kierkegaard, Mallarme and Tintoretto. Another section of the collection explores Sartre's critical attitude to orthodox psychoanalysis as a therapy, and is accompanied by rejoinders from colleagues on his journal Les Temps Modernes. The volume concludes with a prolonged reflection on the nature and role of intellectuals and writers in advanced capitalism, and their relationship to the struggles of the exploited and oppressed classes. Between Existentialism and Marxism is an impressive demonstration of the breadth and vitality of Sartre's thought, and its capacity to respond to political and cultural changes in the contemporary world.
About the Author
Jean-Paul Sartre was a prolific philosopher, novelist, public intellectual, biographer, playwright and founder of the journal "Les Temps Modernes." Born in Paris in 1905 and died in 1980, Sartre was awarded the Nobel Prize for Literature in 1964--and turned it down. His books include "Nausea, Intimacy," "The Flies," "No Exit, Sartre's War Diaries, ""Critique of Dialectical Reason," and the monumental treatise "Being and Nothingness."
Praise For Between Existentialism and Marxism…
"Long regarded as one of France's reigning intellectuals, Sartre contributed profoundly to the social consciousness of the post-World War II generation."—The New York Times

"One of the most brilliant and versatile writers as well as one of the most original thinkers of the 20th century."—The Times

"Sartre, political activist, playwright, novelist, existentialist philosopher, biographer and literary critic, was considered one of the leading interpreters of the post-war generation's world view."—Guardian
or
Not Currently Available for Direct Purchase